Himeji Castle was registered as one of Japan's first UNESCO World Heritage sites.
Himeji Castle, also known as Shirasagi-jo (white egret castle) was given a new look in 2015 when the plaster walls were repainted to make it look even whiter and more beautiful.
In this article you will find the highlights of Himeji Castle in Hyogo Prefecture.
About Himeji Castle
History of Himeji Castle
There used to be tens of thousands of castles in Japan. Of these, only about 200 have survived to the present day.
The castles built before the Edo period are especially valuable.
The fortifications of Himeji Castle were first built in 1346 during the Muromachi period. In 1580, during the Sengoku period, the castle tower was built by Toyotomi Hideyoshi. Hideyoshi's close associate, Kanbei Kuroda, who was born in Himeji, also helped in the construction of Himeji Castle.
After Hideyoshi's death, Tokugawa Ieyasu gave Himeji Castle to Ikeda Terumasa. Terumasa then spent nine years renovating the castle into the Himeji Castle we know today.
Himeji Castle was registered as a World Heritage Site in 1993, along with Horyuji Temple in Nara.
Highlights of Himeji Castle
Beautiful castle with white walls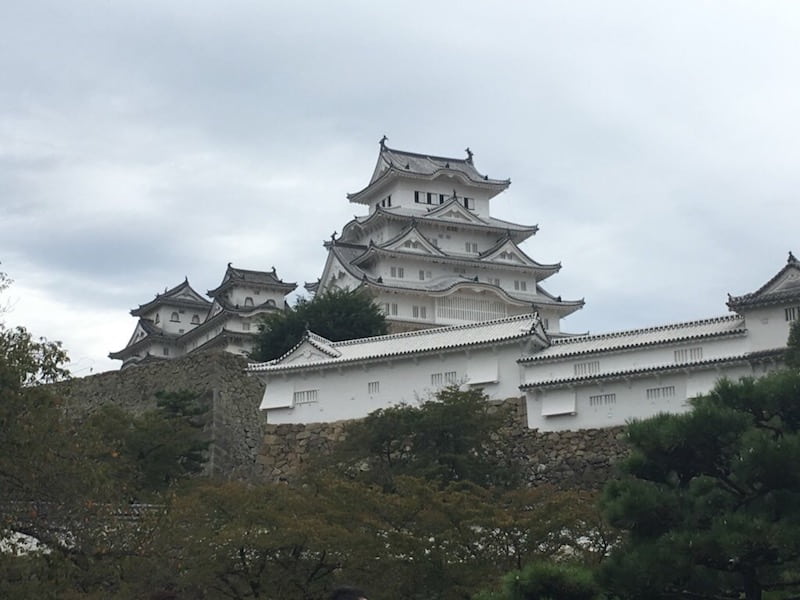 Himeji Castle is famous for its white exterior. The castle is called "Shirasagi-jo" (White Egret Castle) because the three small towers surround the main tower in the centre, and the multiple layers of roofs and white walls resemble an egret trying to soar.
A castle for defence
Himeji Castle is not only a beautiful castle, it is also a defensive castle.
During the Edo period (1603-1868), castles were mainly used to administer the domain. However, Himeji Castle was built before that, during the Warring States period. As such, the castle has many defensive features.
With one to six floors above ground, Himeji Castle was built as a military stronghold and has been designed to ward off enemy attacks at every turn.
Various traps to reach the main castle tower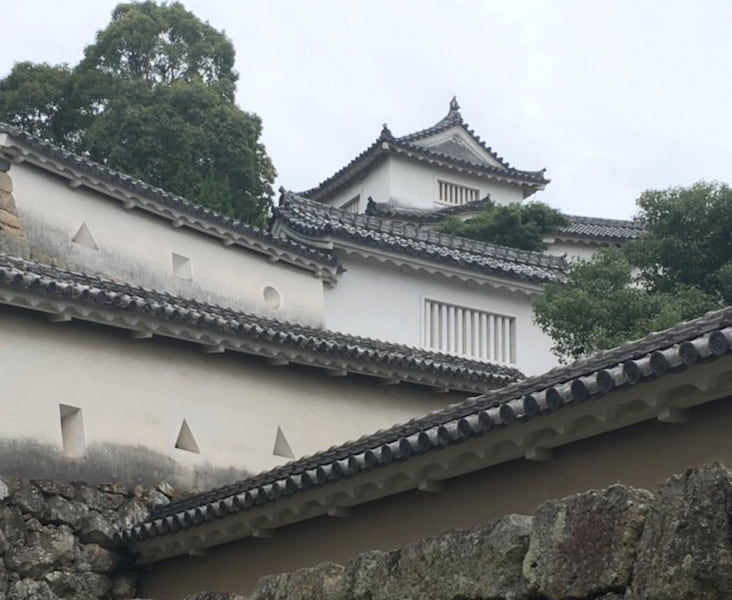 If you want to attack the main castle tower, you have to pass through a number of gates of varying sizes. The path twists and turns, with many gaps and stone-dropping holes along the way, such as the Oishi-otoshi and the Sama (windows for firing arrows and guns).
In the picture above, can you see the triangular or square holes in the wall? These are called "Sama". Sama are holes for shooting arrows and guns, and there are nearly 1000 of them in Himeji Castle.
The narrow passages along the way have traps at every turn, including a low, dark, steel-plated gate where you might hit your head, and a warped path.
Because Himeji Castle is such a popular tourist attraction, it is often so crowded that admission is restricted at weekends and during holidays. The castle is a popular tourist attraction, and during weekends and holidays it can get so crowded that it's difficult to move forward, but this does mean that you can take your time and check out all the traps as you make your way to the main castle tower.
View from the main castle tower of Himeji Castle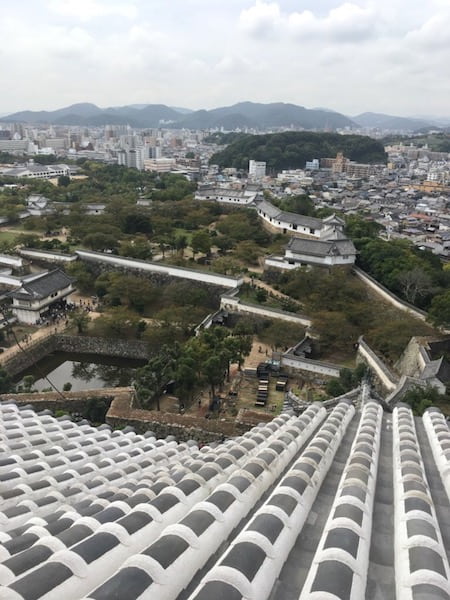 The Tenshukaku (main castle tower) is a seven-storey building with one basement level and six floors above ground. The view from the top floor, which is reached after climbing the narrow staircase, is nothing short of spectacular.
There are no large open windows, but through the walls you can see the entire castle town, including the Ninomaru and Sanomaru areas of Himeji Castle.
The main castle tower itself is also equipped with a "warrior's hide", an armoury, a sama and other traps.
Roof tiles of Himeji Castle
Himeji Castle has a distinctive roof tile system. The roof tiles are made up of alternating plain and round tiles, and the joints are covered with plaster.
Himeji Castle Highlights
White egret castle
Himeji Castle is not only beautiful, but also practical for defence. It takes about an hour's walk from the castle entrance to the main castle, but be sure to climb up to the main castle tower and enjoy the view from Himeji Castle.
Access to Himeji Castle, parking and opening times
 
Access
From Osaka, it takes one hour by train to Himeji Station. Exit Himeji Station and head straight for the castle in front, it takes about 15 minutes to reach the entrance, Sakuramon-bashi.
Address
Opening hours
9:00~17:00 (Open until 18.00 in summer).

※Shortened opening hours now

URL
Official website
Parking
There is a public car park with a parking fee of 600 yen for up to 3 hours and 900 yen for the next 24 hours.
Sights in the area
Himeji Castle is an hour and a half's drive from Osaka, and within easy day-trip distance of the sights of Okayama Prefecture and Shikoku.