More and more people are getting Goshuin stamps to commemorate their visit to temples and shrines. On Instagram, twitter, and blogs, you can see pictures posted about those stamps.
I have been collecting Goshuin stamps for a few years now, little by little. The original stamps are a pleasure to look at and make a good souvenir of your trip.
In this article, I introduce some of the red seals I have received during my visits to shrines and temples.
What is a Goshuin stamp?
A stamp you receive after visiting a temple or shrine
A Goshuin stamp is a stamped or inked seal that you receive in your goshuin book after visiting a temple or shrine.
Each temple or shrine has its own unique stamp. Also, depending on the person who writes the Goshuin in ink, the style of the handwriting has its own unique taste.
The cost of a Goshuin stamp is generally between 300 and 500 yen, although there are some places that ask you to pay out of your own pocket.
Some of the Goshuin stamps
Sanada Shrine's stamps (Nagano Prefecture)
Let me introduce you to some of the Goshuin stamps I have received so far. The first one is Sanada Shrine.
The stamps of Sanada Shrine, located in Ueda Castle in Nagano Prefecture, are based on the warlord Sanada of the Sengoku period.
This one features the ascending ladder of Masayuki Sanada's helmet (Kabuto).
In spring, a seasonal red seal with a cherry blossom motif is offered.
Oku-no-in Temple and Nachisan Seigantoji Temple (Wakayama Prefecture)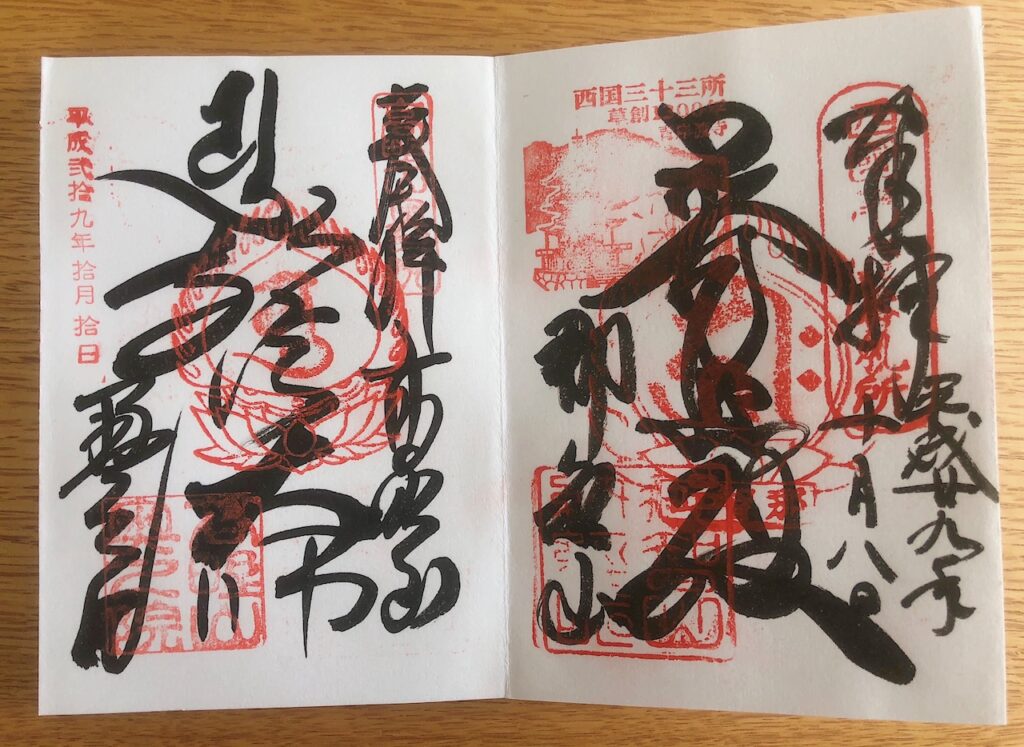 Next, I would like to show you some stamps from the Okuno-in Temple in Koyasan and Kumano Nachi Shrine in Wakayama Prefecture.
On the left side of the photo is the stamp from the inner sanctuary of Koyasan, and on the right side is the stamp from Seigantoji Temple on the grounds of Kumano Nachi Taisha.
It's a cool ink drawing with a smooth brush stroke.
Goshuin stamp of Oyamazumi Shrine (Ehime Prefecture)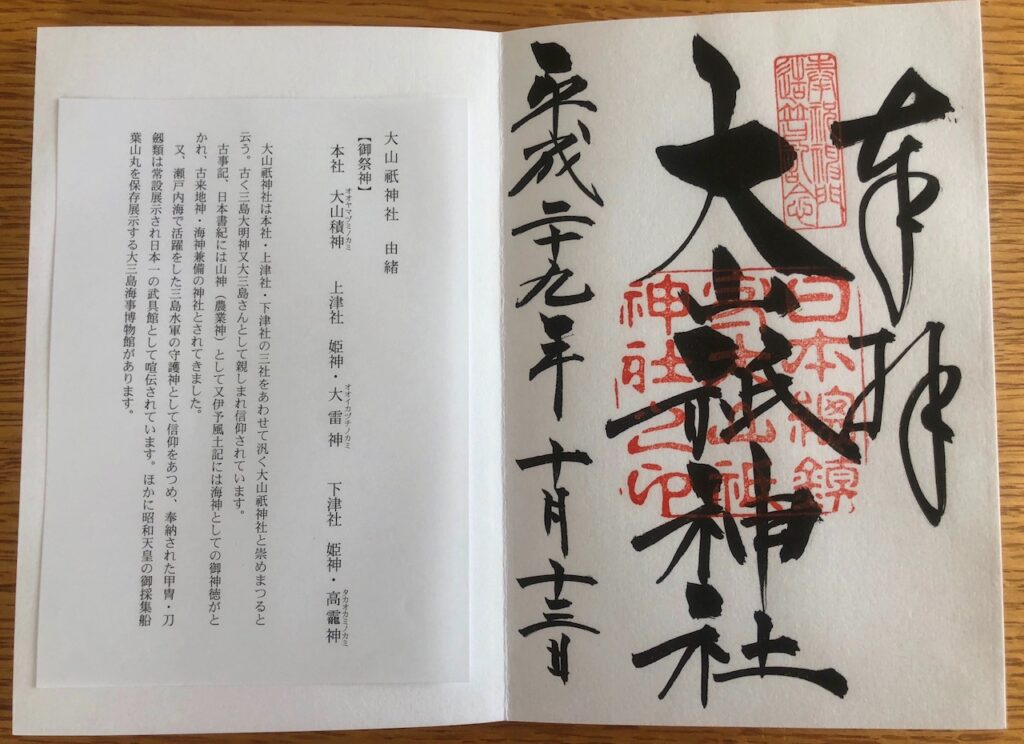 This is a stamp from Oyamazumi Shrine in Oomishima, Ehime Prefecture.
Oyamazumi Shrine is dedicated to the gods of the mountains and the sea, and houses Japan's largest museum of samurai armory, including the armor of Minamoto no Yoritomo and Minamoto no Yoshitsune.
Collection of Goshuin stamps at temples and shrines
Collecting stamps all over Japan
This is just a small selection of what we have to show you. There are many more temples and shrines all over Japan that offer unique  stamp designs.
If you do an image search for '御朱印' on Google, Twitter or Instagram, you can see a variety of those stamps.
You can also read other articles about Goshuin stamps here.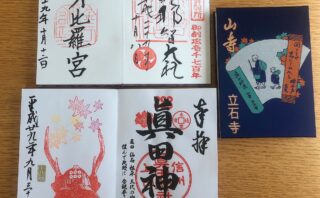 Deciding Where to Buy Your Goshuin Stamp Book is One of the Joys of Travel!
A Goshuincho is a book used when having a Goshuin stamped at a shrine or temple. Isn't it difficult to decide where to buy a Goshuin stamp book? It is s...