One of the pleasures of traveling is to take a bath in an onsen.
Living in Nagano Prefecture, hot springs are a part of my everyday life. Which hot spring should I visit next time? I can immediately come up with at least five candidates.
To begin with, how many hot springs are there in Japan?
This article will tell you how many hot springs there are in Japan, how much they produce, and which prefectures have the most hot spring facilities.
Japan, a hot spring paradise
Japan has hot springs in all 47 prefectures
In Japan, where there are many volcanoes, there isn't a prefecture without hot springs.
Nowadays, there are not only naturally occurring hot springs, but also hot springs that are pumped up using power equipment. Thanks to the fact that it is now possible to dig up to more than 1,000 meters below the ground, hot springs are now available everywhere.
As a result, many hot spring facilities have been built all over Japan.
How many hot springs are there in Japan, actually?
There are over 3,000 hot spring resorts and more than 20,000 hot spring facilities
According to information from the Nippon Onsen Research Institute, there are 2,983 hot spring resorts and 20,795 hot spring facilities in Japan.
A total of 20,795 hot spring facilities is a little hard to imagine, isn't it?
There are currently 1,718 municipalities in Japan. If you divide it simply, it means that there are about 12 hot spring bathing facilities per city, town or village.
Ranking of the Top 3 Hot Springs by Prefecture
Which are the top three prefectures with the most hot springs? Here are the rankings.
Number of hot spring areas
No. 1: Hokkaido (244 locations)
No. 2: Nagano Prefecture (215 locations)
No. 3: Niigata Prefecture (145 locations)
Number of hot spring facilities
No. 1: Shizuoka Prefecture (2,381 sites)
No. 2: Nagano Prefecture (1,957 sites)
No. 3: Oita Prefecture (1,212 sites)
Prefectures with a large amount of hot spring water
No. 1:Oita Prefecture (279,549 litres per minute)
No. 2:Hokkaido(201,055 litres per minute)
No. 3:Kagoshima prefecture (157,989 litres per minute)
Hokkaido is in the top four in every ranking, with Hokkaido accounting for 10% of the nation's total for both hot spring resorts and hot spring facilities.
Shizuoka Prefecture has many major hot spring resorts such as Atami, Izu-kogen, Ito and Shimoda Onsen. Oita Prefecture is famous for its Beppu Onsen, a hot spring resort filled with steam.
I was again surprised by the number of hot springs in Nagano Prefecture. There are 77 cities, towns, and villages in Nagano Prefecture, which means that there are more than 24 hot spring facilities per municipality.
Summary of the number of hot springs in Japan
The number of day trip hot spring facilities is increasing, and the number of accommodation facilities is decreasing
The number of hot springs in Japan is much larger than I had expected.
Looking at the trend over the past 30 years, the number of onsen ryokan and other lodging facilities with onsen attached has been decreasing, but the number of day trip onsen facilities has been gradually increasing.
One-day hot spring facilities that are easy to use tend to be crowded on holidays. In such cases, there are some inns and hotels that offer day-trip bathing plans with private rooms and meals, so it may be a good idea to take advantage of such plans.
Onsen Spots in Japan
For more information about hot springs in various parts of Japan, please read this article.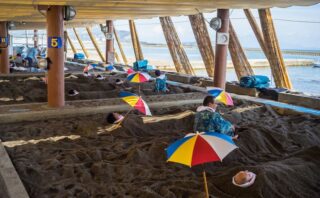 What is a Sand Bath? |A Day Trip to Saraku in Ibusuki, Kagoshima Prefecture
At the southern end of Kyushu lies Ibusuki, a city of 44,000 people. The city of Ibusuki in Kagoshima Prefecture is famous for its "sand steam bath", o...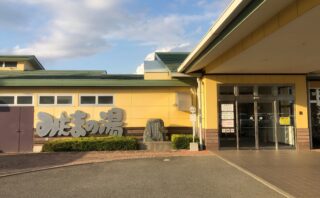 Mitamano-Yu Hot Spring|One Day Spa in Yamanashi with a View and Meals
On a recent trip to Yamanashi Prefecture, I dropped in on a day trip to a hot spring called Mitamano-yu. Mitamano-yu has an open-air bath with a panora...