In the central part of Akita Prefecture, near the border with Iwate Prefecture, there is the deepest lake in Japan, called Lake Tazawa.
This lake has a fantastic atmosphere, as the color of the lake is a deep blue-green, no matter what time of year you go out.
This article describes my drive around Lake Tazawa in Akita Prefecture.
About Lake Tazawa in Akita Prefecture
The deepest ice-free lake in Japan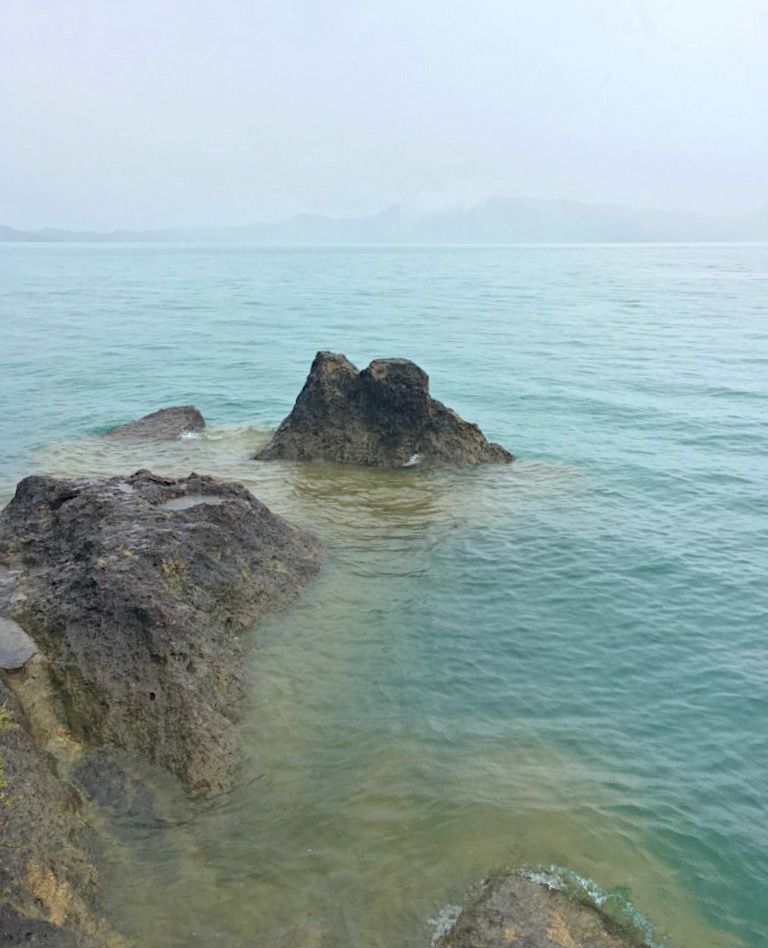 Lake Tazawa was formed by a volcanic eruption 160 years ago and is the deepest caldera lake in Japan. The average depth of the lake is 280 meters, and the deepest part is 423 meters.
Deep lakes, like Lake Tazawa, don't freeze over in winter.
The deep, transparent Lake Tazawa reflects light, and the color of the lake may appear blue or green depending on the day.
The photo above shows Lake Tazawa when it looks greenish. On another day, Lake Tazawa was changing to a blue lake.
Highlights of Lake Tazawa
The golden statue of Princess Tatsuko stands against the backdrop of Mt. Akita Komagatake and Lake Tazawa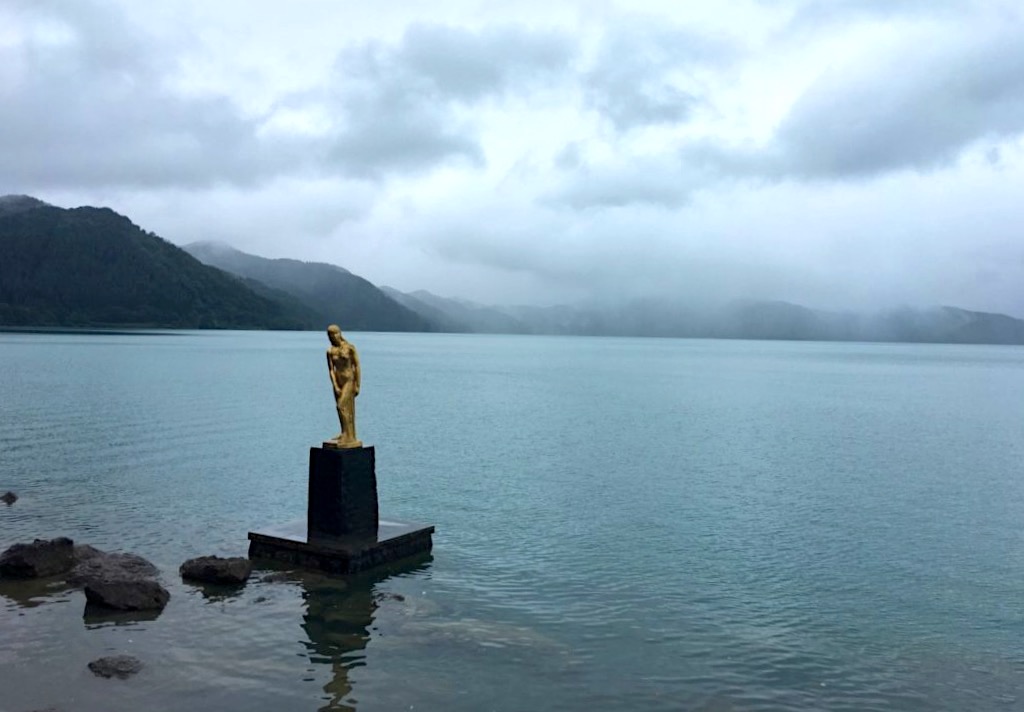 Tazawako is famous for the photo taken with the golden statue of Tatsuko. The statue of Tatsuko was created by the sculptor Yasutake Funakoshi, and is based on the legend of a girl named Tatsuko who was transformed into a dragon in Lake Tazawa.
A large school of Japanese dace living in Lake Tazawa
When you walk around Lake Tazawa, you will see a large school of fish swimming around, as shown in this video. These fish are called "ugui".
In addition to Japanese dace, Lake Tazawa is also home to trout, carp, and char.
Kunimasu, an Endemic Fish of Lake Tazawa
Lake Tazawa used to be home to a fish called Kunimasu, which is endemic to the lake, but unfortunately it is now extinct.
However, the Kunimasu of Lake Tazawa was discovered in Lake Saiko in Yamanashi Prefecture after 70 years.
The Kunimasu trout discovered in Lake Nishi in Yamanashi Prefecture can also be seen here at the Kunimasu Miraikan in Lake Tazawa, so if you are interested, please drop by.
Gozanoishi Shrine and the red Otorii gate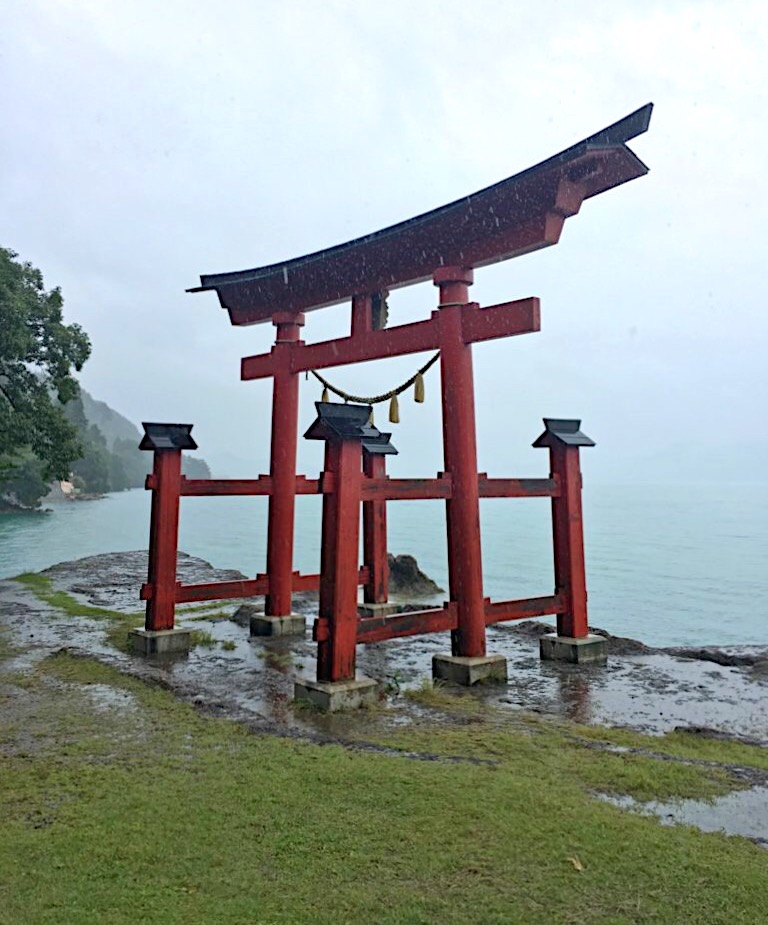 On the shore of Lake Tazawa, about a seven-minute drive from the golden statue of Tatsuko, there is a shrine called Goza-no-Ishi-jinja, which is dedicated to Princess Tatsuko.
At the entrance of Goza-no-Ishi Shrine is a large red torii gate facing Lake Tazawa. On a rainy or foggy day, the red torii may look as if it is floating on the lake.
Asari Shoten's Misotanpo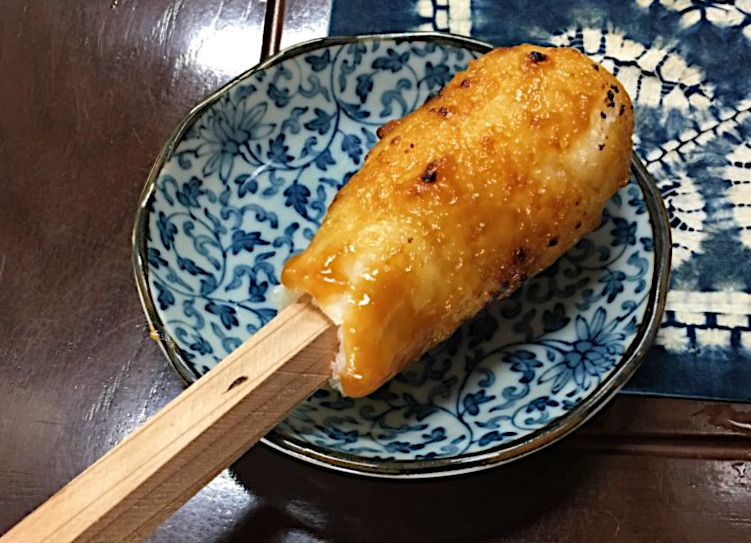 Next to the Ozaishi Shrine is an old-fashioned souvenir shop called Asari Shoten. At the Asari Shoten's rest corner, you can enjoy Tazawako's specialty, miso-tampo (kiritanpo with miso sauce).
Summary of Japan's Deepest Lake Tazawa
Lake Tazawa, where you can enjoy sightseeing all year round
Lake Tazawa is 20 kilometers in circumference, and it takes about 30 to 40 minutes to drive around the lake.
It is fun to go around the lake by sightseeing boat or rental boat, and there is also a swimming area where you can swim, although it is only available in summer.
It is also possible to rent bicycles and take a ride around the lake.
How about visiting Lake Tazawa in Akita Prefecture, the deepest lake in Japan, which does not freeze even in winter?
Access and parking to Lake Tazawa
 

| | |
| --- | --- |
| Access | It takes one and a half hours from Akita Station by car. It takes 1 hour and 15 minutes from Akita Airport. |
| Address | |
| URL | Senboku city guide |
| Parking | Available (some locations are free and some are charged) |
Other sightseeing spots around Lake Tazawa
Lake Tazawako is about a 30-minute drive from Kakunodate, a famous tourist spot with samurai residences.
Lake Tazawako is also close to the border between Akita and Iwate prefectures, and Morioka City can be reached in about an hour and 15 minutes by car.