If you are on your way back from a sightseeing trip to Akita Prefecture and are wondering where to buy souvenirs, there is one place I would like to recommend. It is the souvenir store at Akita Airport.
The "Akita Airport Souvenir Plaza Gift Shop" has a wide variety of Akita's specialties.
And while you're there, you can have a meal at a restaurant while watching the planes arrive and depart from the airport.
Akita Airport, the Gateway to Sightseeing in Akita
An airport with easy access between facilities
Akita Airport is about a 30-minute drive southeast of JR Akita Station.
The airport's domestic and international terminals are located on adjacent land, and the terminal building houses souvenir stores, restaurants, and convenience stores.
It is not a huge airport, but because of this, the various facilities within the airport are easily accessible, making it an easy place to stop by while sightseeing, even if you are not flying.
Souvenir plaza on the second floor of the airport
A souvenir store with a wide selection of Akita Prefecture's specialty products
There is a souvenir plaza on the second floor of the airport terminal building. At the entrance to this area, a large Namahage doll stands to welcome tourists.
It is open for long hours from 6:55 in the early morning until 8:20 in the evening. It's easy to stop by before or after sightseeing.
This store offers a wide range of Akita's specialties, including Inaniwa udon, a popular souvenir, Kiritanpo, Iburi-gakko, and local sake.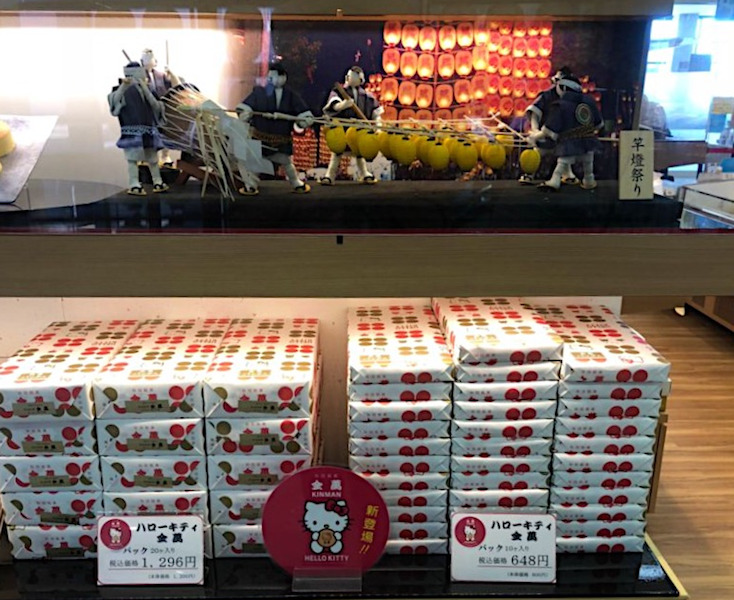 The popular sweets of Akita are Morokoshi, which is similar to Rakugan, and Kinman, which is a sponge cake filled with white bean paste. The Kitty-chan version of Kinman is also available, and makes a great souvenir.
The colorful yellow and pink Baba Hera ice cream can also be purchased at this store.
Other Facilities at Akita Airport
Pick-up and drop-off deck at the airport terminal building
After looking at the souvenirs, if you have time, take a look at the transfer deck.
On the rooftop of Akita Airport, there is a pick-up and drop-off deck where you can watch planes arrive and depart like this. Adults and children alike will enjoy this together.
The airport restaurant "Sora" with a view of the runway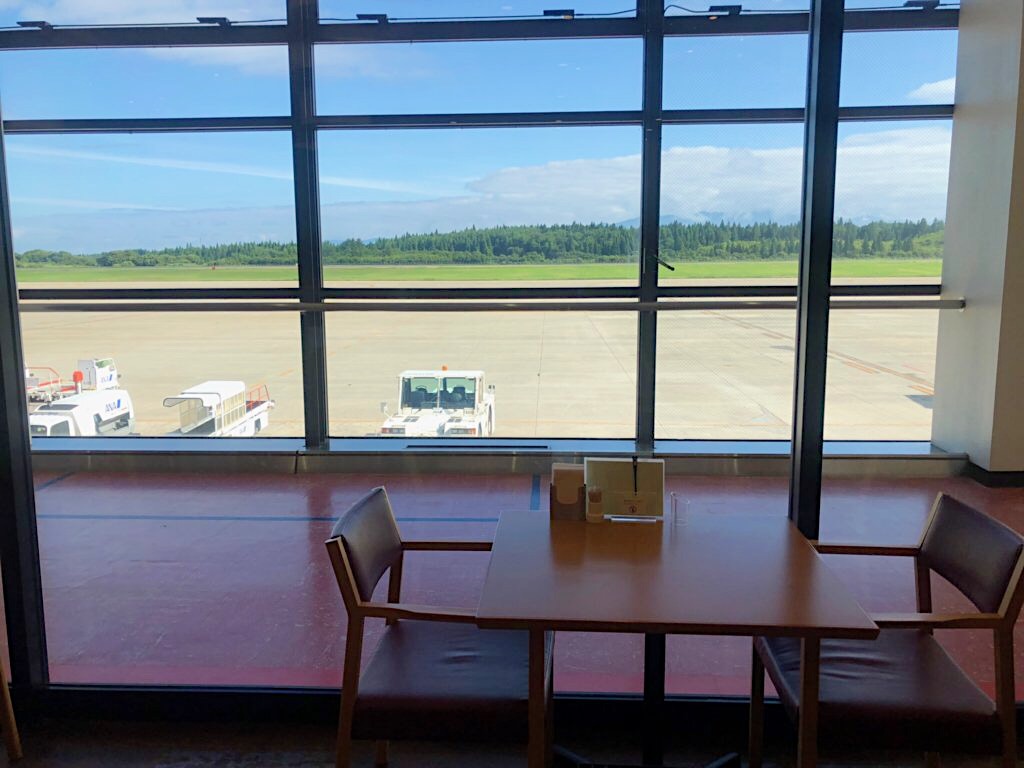 If you want to take a break on the way, you can go to the second floor. At the Sora restaurant on the second floor of the terminal building, you can have a meal while looking at the runway outside, as shown in the photo.
The restaurant is open from 8:00 a.m. to 8:00 p.m., and also serves mornings.
Akita Airport Summary
You don't have to get on a plane to have fun
Even if you don't take a flight, you can stop by the airport to pick up some Akita's souvenirs or take a break.
If you're in the area, why not stop by Akita Airport?
Access and parking to Akita Airport
 

| | |
| --- | --- |
| Address | |
| URL | Official website |
| Parking | Yes (free parking for up to 2 hours, 50 yen per hour thereafter, 70 yen per hour in multi-story parking garage) |
Sightseeing spots nearby
For more information on nearby attractions, please read this article.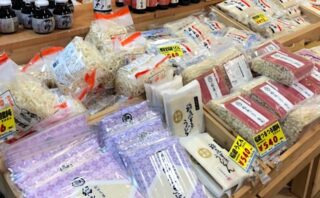 How to Eat Inaniwa Udon Noodles|Dried Udon Noodles from Akita That are Delicious Hot or Cold
Inaniwa udon is a specialty of Akita. Inaniwa udon is a type of udon noodles that can be served either cold or hot. This article describes my visit to A...