Sanjo City in Niigata Prefecture has long been known as a town of hardware manufacturing. In the suburbs of Sanjo City, there is a factory of Swada Manufacturing, a manufacturer of high quality nail clippers.
This article describes my visit to the "SUWADA OPEN FACTORY" of Swada Blacksmith Works, Inc.
About Swada Blacksmith Works, Inc.
Manufacturer of high-end nipper-type nail clippers
Have you ever used nipper-type nail clippers? Compared to regular nail clippers, these nail clippers are larger in size and feel heavier, but once you try them, some people become addicted to their ease of use.
Swada Blacksmith Works is a manufacturer that makes these nipper-type nail clippers by hand, one by one.
SUWADA OPEN FACTORY
This is the open factory of Swada Blacksmith Works. Admission to the factory is free, and anyone who visits can tour the factory freely without making a reservation.
Highlights of SUWADA OPEN FACTORY
Stylish factory that can be visited anytime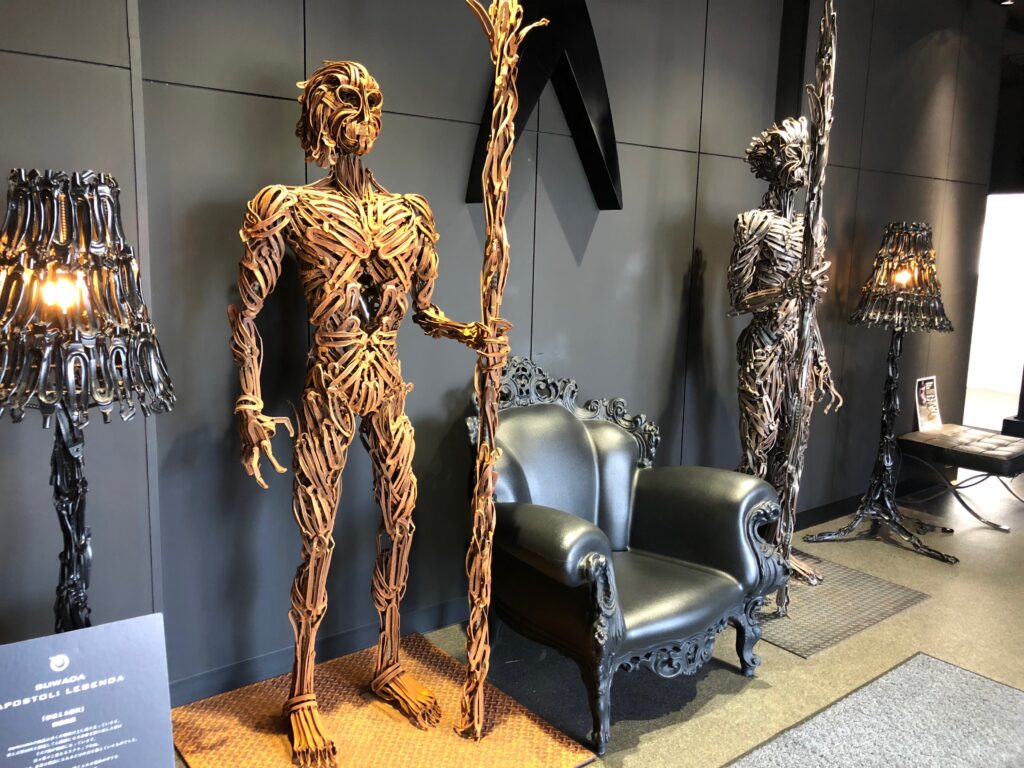 After passing through the entrance of Swada's Open Factory, there is a lobby area as shown in the photo. This area was decorated with statues of White Walker-like dolls made of scrap metal, lions, and bonsai trees. It's like an art gallery with good taste.
At the back of the lobby, there is a corner to display the products of Swada Manufacturing, and then a glass-walled factory area.
Swada's nail clippers take a month to make
Inside the factory, there is a tour route, and the work areas are lined up in order, from forging to polishing and finishing. You can watch the craftsmen at work through the glass.
Swada's nail clippers are finished by hand using several types of sandpaper to ensure that the left and right teeth are perfectly aligned without any gaps.
This is why it takes a month to complete the process.
Buy Nail Clippers at Factory Shop
Swada Factory Shop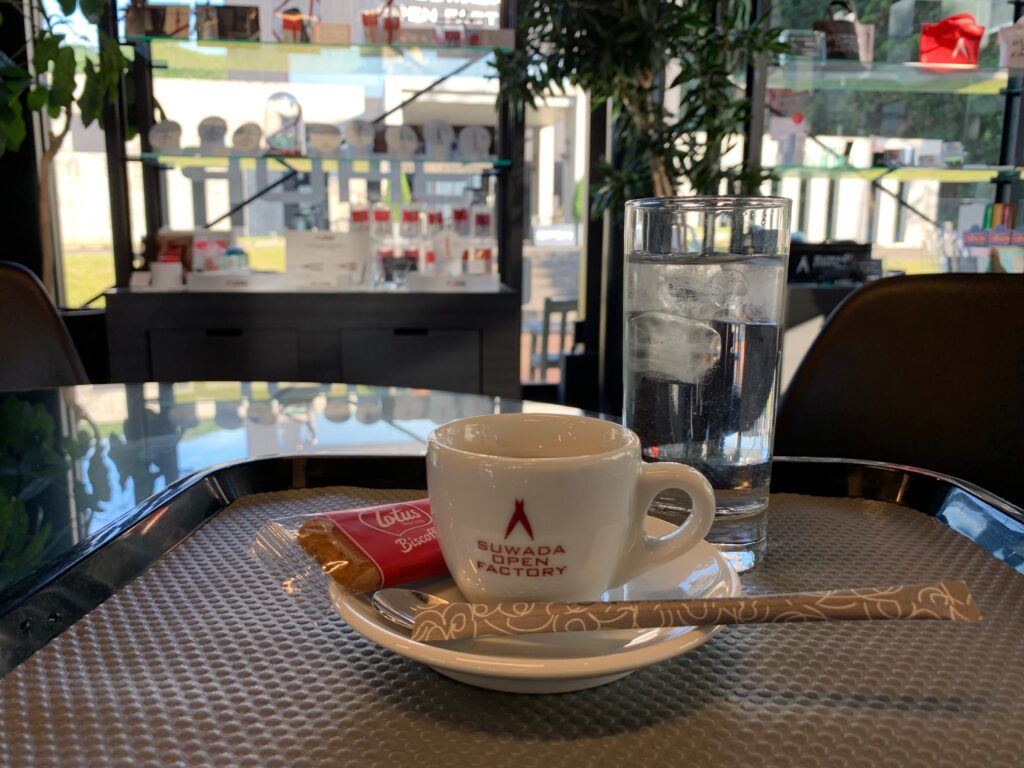 After the factory tour, we moved to the factory store next door. At the factory store, you can buy products such as nail clippers and kitchenware.
There is also a cafe inside the store where you can take a break. The coffee in the cafe was authentic and delicious.
You can try out the nipper-type nail clippers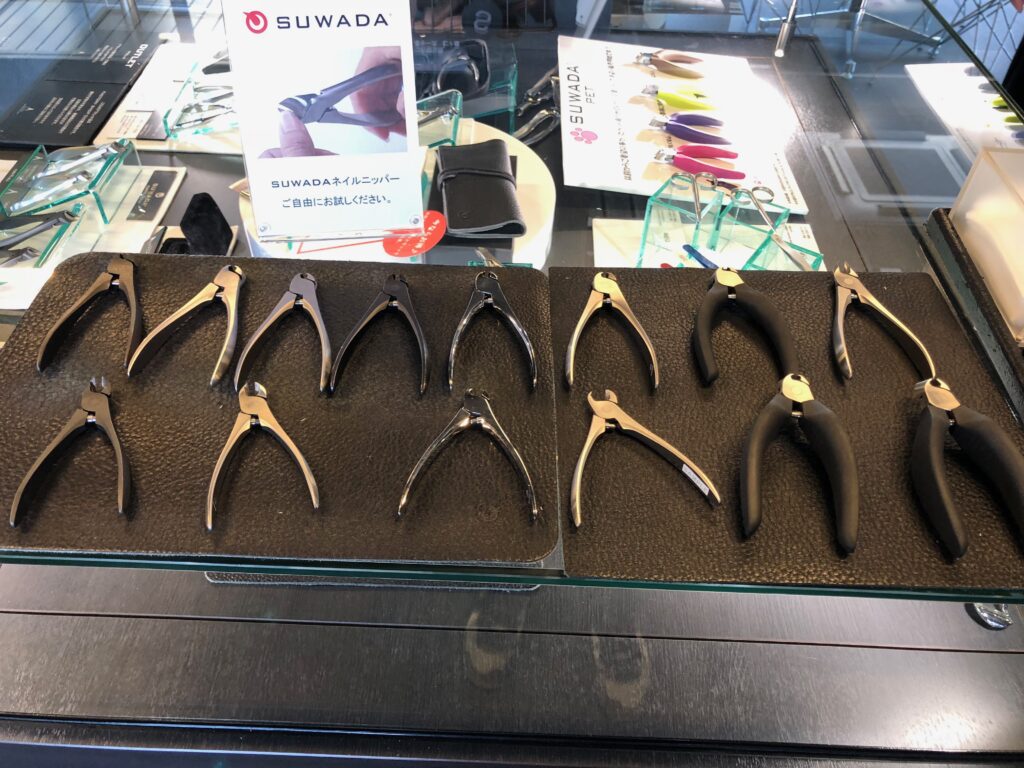 In the factory store, there are samples of nipper nail clippers of different sizes, shapes, and materials that you can try out to see how sharp they really are.
Swada's nipper nail clippers vary slightly in size, material, and the shape of the blade curve. The basic material is stainless steel, and the blade is curved to fit the shape of the nail.
Other types of nail clippers are available, such as straight ones for toenails and those made of carbon steel.
All of Swada's nipper nail clippers are very sharp, as you would expect from a high-end nail clipper. However, there are slight differences in sharpness depending on the material, size, and whether the blade is straight or curved. At the factory store, you can actually use all of them and decide which one you prefer before you buy.
Summary of Swada's nail clipper factory tour
If you've never used nipper-type nail clippers before, you might be impressed!
When I visited the Swada Open Factory, it was the first time for me to use nipper-type nail clippers, and I was impressed with their sharpness.
Unlike regular nail clippers that make a cracking sound, these nail clippers make a quiet crisp sound and are so smooth that you don't need a nail file after cutting.
Swada's nipper-type nail clippers you'll want to try
The SUWADA OPEN FACTORY was a stylish factory that looked like an art gallery. It's worth a visit just to see the works made from scrap material.
For those who use Swada nail clippers on a regular basis, I think the factory tour will make them even more attached to their nail clippers.
At the factory store, most of the products are basically sold at a fixed price, except for some outlet products. Therefore, rather than visiting to buy a bargain product, I think this is the place to go to try out nail clippers and learn what they are made of.
Also, if you are particular about quality, you can actually check which material, size, and shape of the product is your favorite.
SUWADA OPEN FACTORY access, parking, and business hours
 

| | |
| --- | --- |
| Access | 20 minutes drive from Sanjo Tsubame Interchange. |
| Address | |
| Opening hours | Factory tour from 10:10 am to 5:00 pm (Tuesday to Saturday, with lunch break), factory store from 10:00 am to 6:00 pm (no regular closing days) |
| URL | Official website |
| Parking | Available (free of charge) |
Other Sightseeing Spots in the Area
For more information on other sightseeing spots in Niigata Prefecture, please read this article.