In Azumino City, Nagano Prefecture, there is a wasabi (Japanese horseradish) farm called "Daio Wasabi Farm", which is the largest wasabi field in Japan, using spring water from the Northern Japan Alps.
This article describes the highlights of the Daio Wasabi Farm and how long it takes to visit.
About Daio Wasabi Farm
A vast farm where you can enjoy wasabi to the full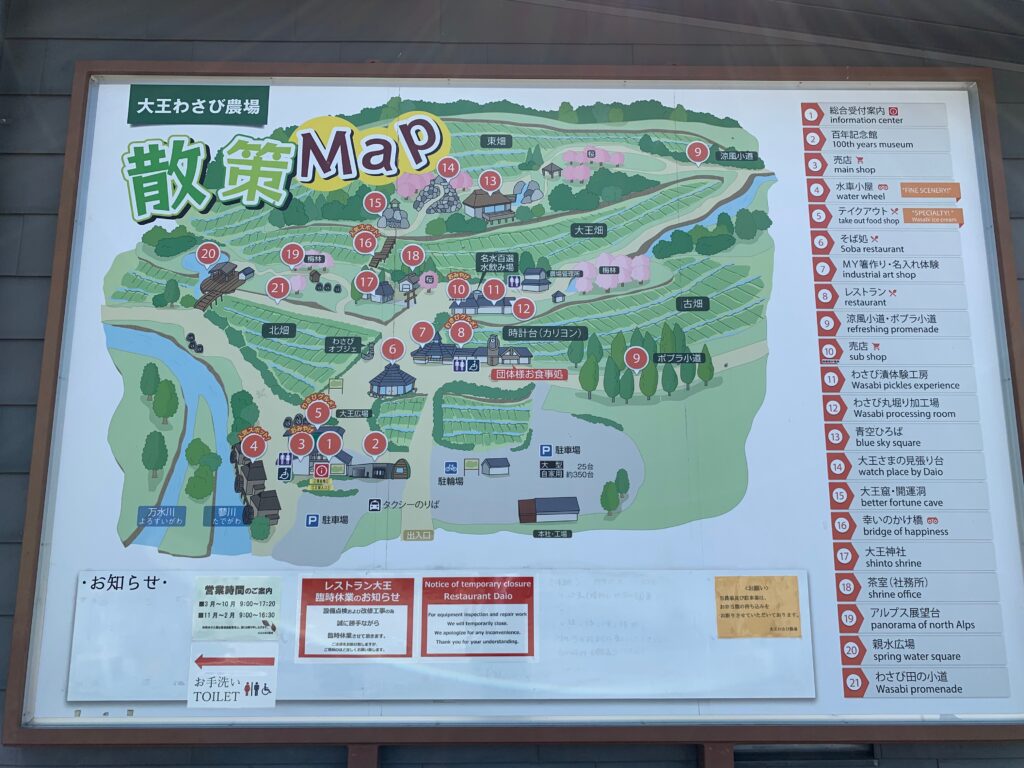 Daio Wasabi Farm was established in the Taisho era (1912-1926) and is one of the largest wasabi farms in Japan.
In addition to the endless wasabi fields, the farm also has a shop selling freshly harvested wasabi, a restaurant and a food court where you can eat wasabi-based dishes.
Highlights of Daio Wasabi Farm
A vast field of wasabi that goes on forever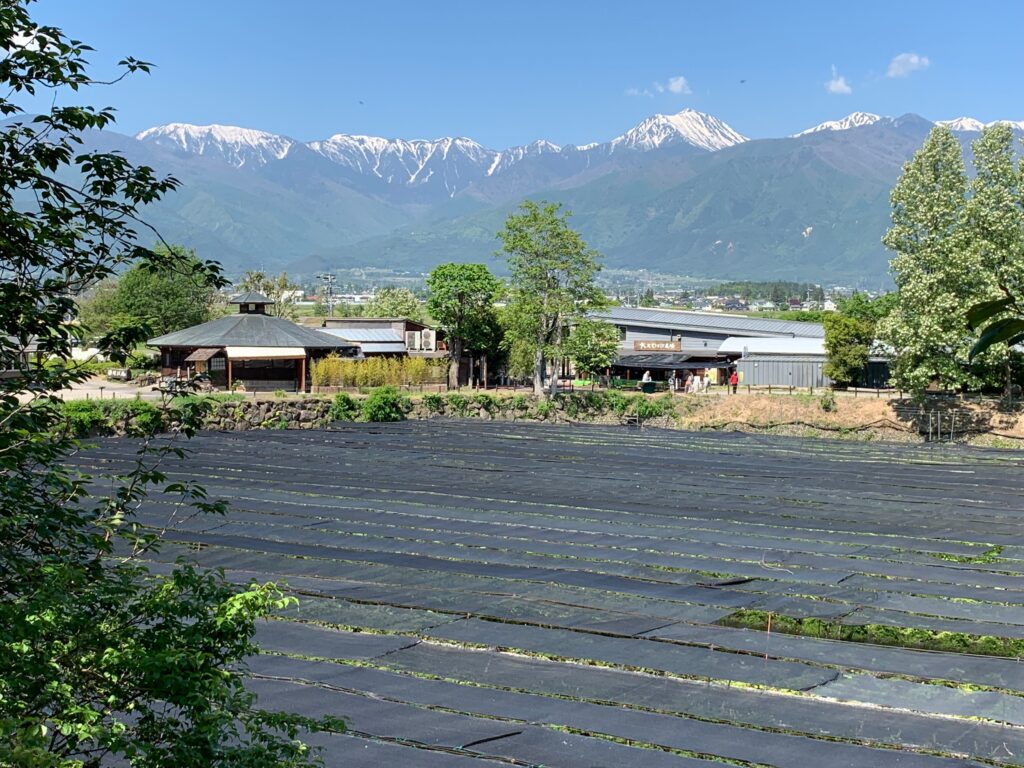 As soon as you enter the entrance, you are confronted by a green field covered with shade nets, stretching as far as the eye can see. You can observe the wasabi in its habitat in the crystal-clear spring water.
The Alps Observatory
In the middle of the farm, there is a small hill called the Alps Lookout. From this lookout, you can see the mountains of the Northern Japan Alps, such as Chogatake, Jounendake and Yokotodake.
The wasabi of the Daio Wasabi Farm is grown in the melt water of these mountains.
Food Court & Restaurant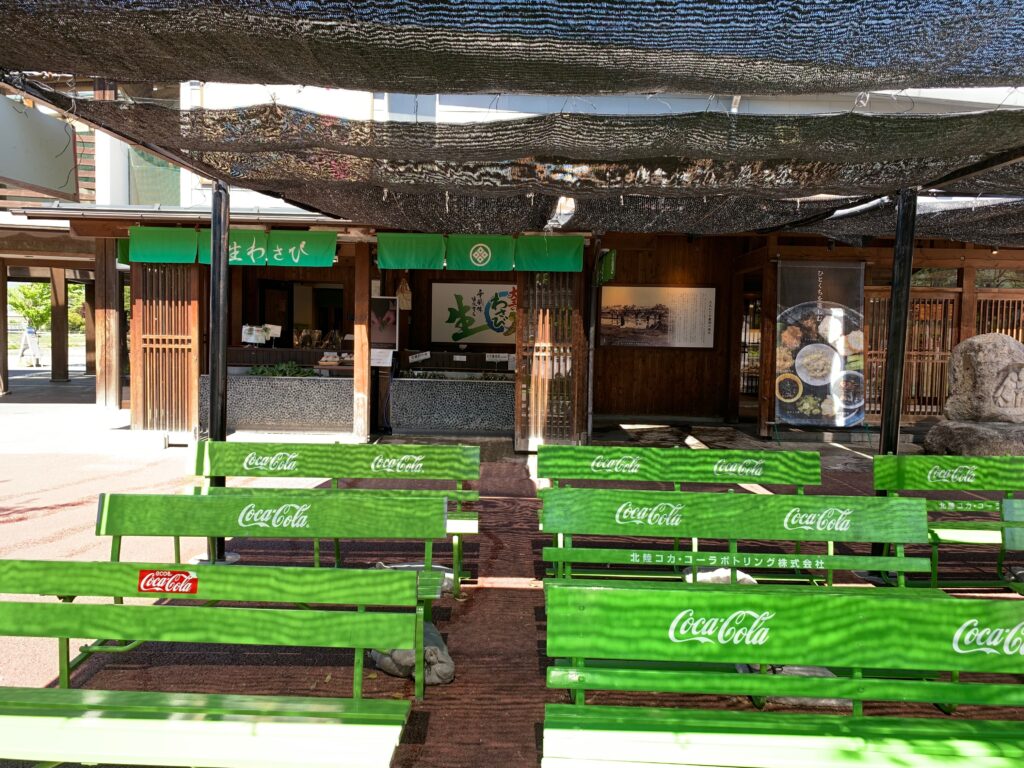 The farm has a food court with green chairs arranged under a shade net. There is a shop selling foods such as Wasabi croquettes and Wasabi curry. The Wasabi rice bowl with their famous fresh wasabi is also very popular .
The soft serve ice cream corner sold premium fresh cream soft serve (Cremia) in Wasabi and Shinshu apple flavours.
We did not have a chance to visit, but there is also a restaurant on the farm where you can enjoy wasabi dishes.
Souvenir shop with fresh wasabi and a wide range of wasabi products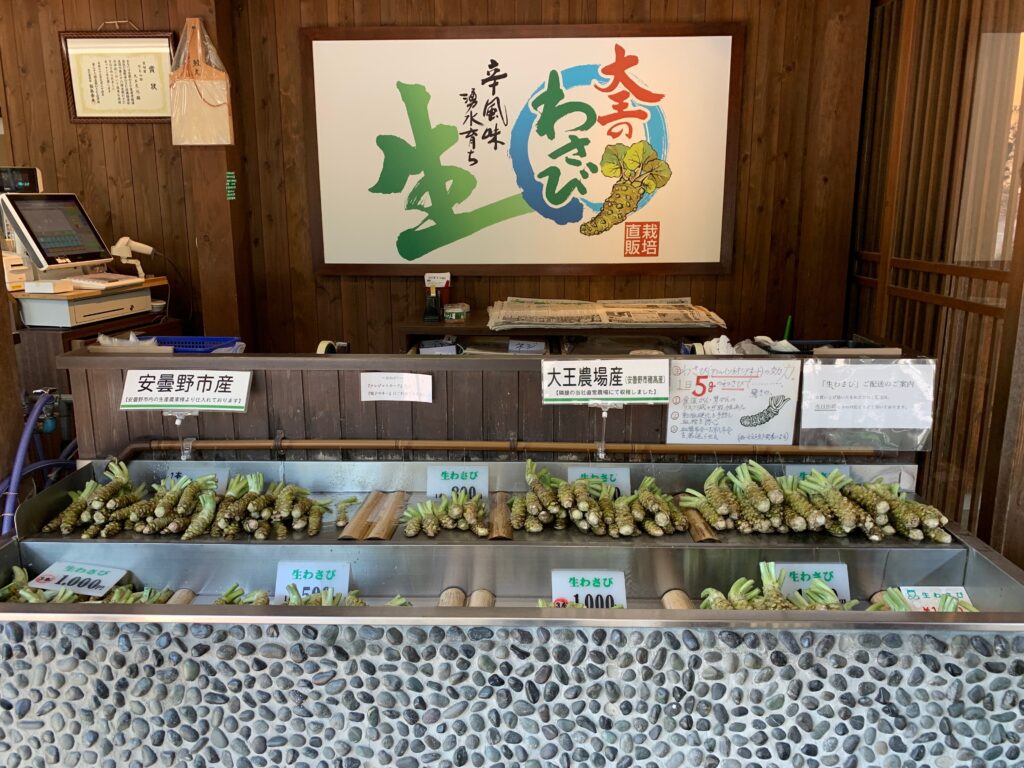 In the shop next to the food court, fresh wasabi, harvested on the farm or in the Azumino area, was on display. At the time of our visit, the price was about 500 yen per piece or 1000 yen for three pieces.
In the souvenir shop at the back of the building, there are many foods made from wasabi, such as chopped wasabi, smoked ham with wasabi, rice crackers, wine, etc., which you can taste.
We chose some of the most popular products such as wasabi pickles, wasabi wasan and wasabi leaves pickled in soy sauce, which are perfect to accompany rice.
Azumino Kisen's Clear Boat Tour
Azumino Kisen operates a 20-minute clear boat tour along the side of the farm grounds, taking visitors on a rowing boat ride along the river that runs beside the Daio Wasabi Farm, with a view of the windmills.
The cost of the tour was 1,200 yen for adults (900 yen for 3 to 11 year olds). This is a great way to cool off on a hot day as you can put your feet in the crystal clear river water.
* The clear boat service is currently on hold.
How long does it take to visit the Daio Wasabi Farm?
You should expect to spend between 1 and 2 hours
The duration of a visit to Oh Wasabi Farm is as follows
A walk through the wasabi fields (30 minutes to 1 hour)
Meals and souvenirs (30 minutes to 1 hour)
Clear boat experience (30 minutes)
Experience class (30 minutes to 1 hour)
Daio Wasabi Farm is a large place, so it will take you about 30 minutes just to walk around the farm.
In the shop, you will find a wide range of souvenirs made from wasabi, so you may want to take your time to shop around.
You may also want to allow extra time to take part in a hands-on class (booking essential) or a clearing boat ride.
Dio Wasabi Farm is a tourist facility that can be visited free
What do you think? It's great that all these facilities are free to enter.
Just strolling around the large Wasabi farm with its crystal clear water against the backdrop of the Northern Alps will refresh you.
Why don't you drop in at Daio Wasabi Farm when you visit Azumino City in Nagano Prefecture?
Access, parking and opening hours of Daio Wasabi Farm
 

| | |
| --- | --- |
| Access | J10 minutes drive from Hotaka Station on the JR Oito Line and 10 minutes drive from the Azumino Interchange on the Nagano Expressway. |
| Address | |
| Opening hours | 8:00 to 17:00((From November to February from 9:00 to 16:30) |
| Parking | Available (free of charge) |