Instant noodles were invented in Japan.
Instant noodles are so popular around the world that it is hard to believe that there are people who have never eaten instant noodles before.
In Yokohama City, Kanagawa Prefecture, there is a facility where you can learn about instant ramen and its inventor, Momofuku Ando.
This article describes our visit to the Cupnoodles Museum in Yokohama.
What is the Cupnoodles Museum?
The Momofuku Ando Memorial Museum of Invention
The official Japanese name of the Cupnoodles Museum in Yokohama is the Momofuku Ando Invention Museum. Momofuku Ando is the founder of Nissin Food Products, and the inventor of Chicken Ramen and Cup Noodles.
Museum Floor Guide
The Cupnoodles Museum Yokohama is a building with floors 1 through 5. The floor directory is as follows.
1st floor: Museum Shop
2nd floor: Exhibition gallery about instant noodles and Momofuku Ando
3rd floor: Instant Noodles Making Factory (My Cupnoodles Factory)
4th floor: Restaurant where you can eat noodles from around the world
5th floor: Event space
By touring the museum, you can learn more about instant noodles and Momofuku Ando.
There is also the Cup Noodle Museum in Osaka, which is also run by Nissin Food Products (some of the exhibits are different).
What's on display at the Cupnoodles Museum Yokohama
Reproduction of Momofuku Ando's research hut
First, pay the entrance fee (500 yen for adults, free for high school students and younger) at the entrance hall on the first floor, and then go up to the exhibition area on the second floor.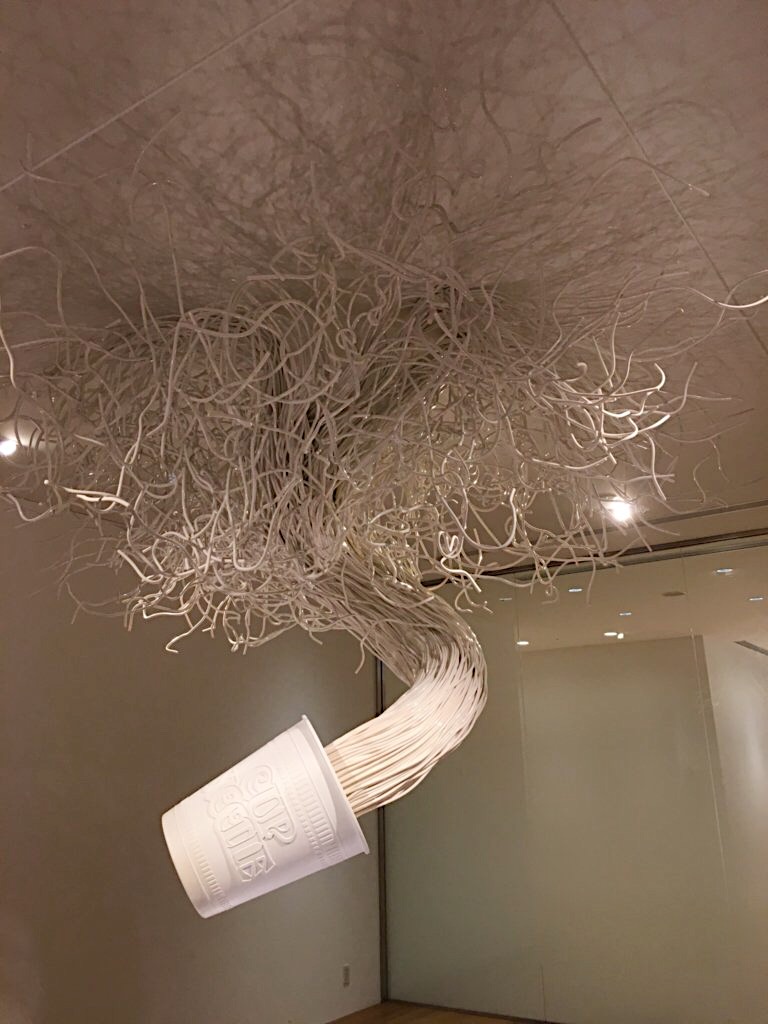 In the exhibition area, there was a reproduction of the diorama of the research shed that Momofuku Ando used when he was developing instant noodles, as well as art objects of Cup Noodles like the one in the photo.
There is also a section that introduces the history of the museum through cute videos.
A corner where you can learn about instant noodles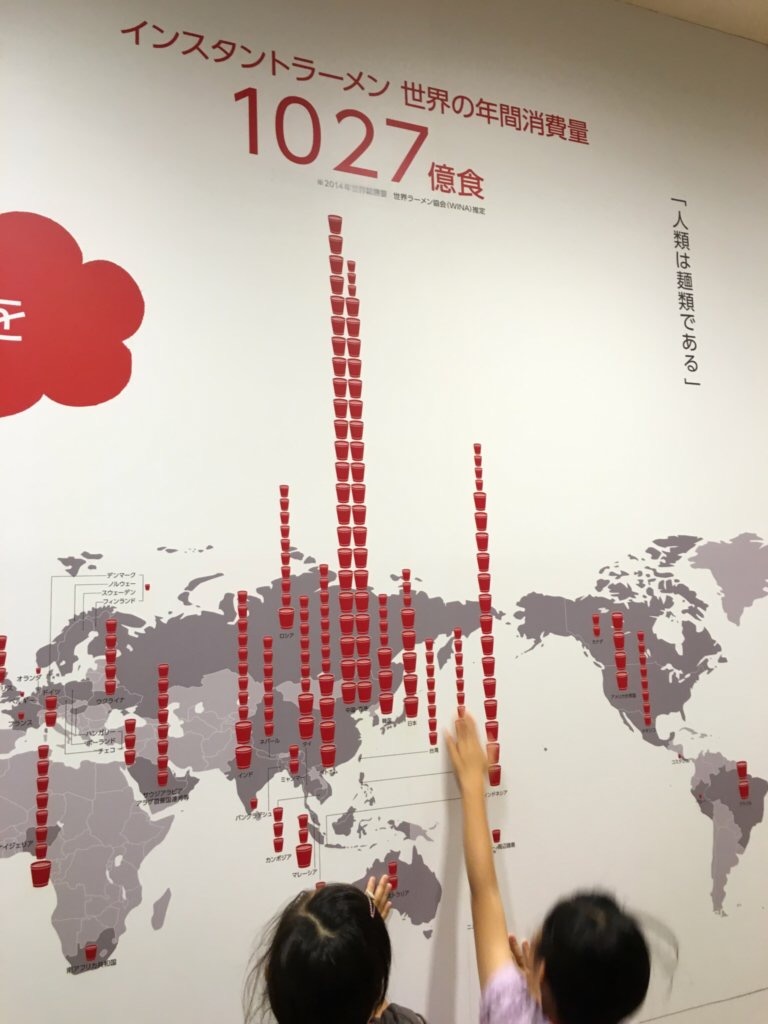 In one corner of the Momofuku Ando History Corner, there was a display showing how much instant noodles are eaten around the world. The world's annual consumption of instant noodle is 102.7 billion servings.
Since the current world population is 7.6 billion, that means that each person eats 14 instant noodles per year.
A corner with cup noodles from around the world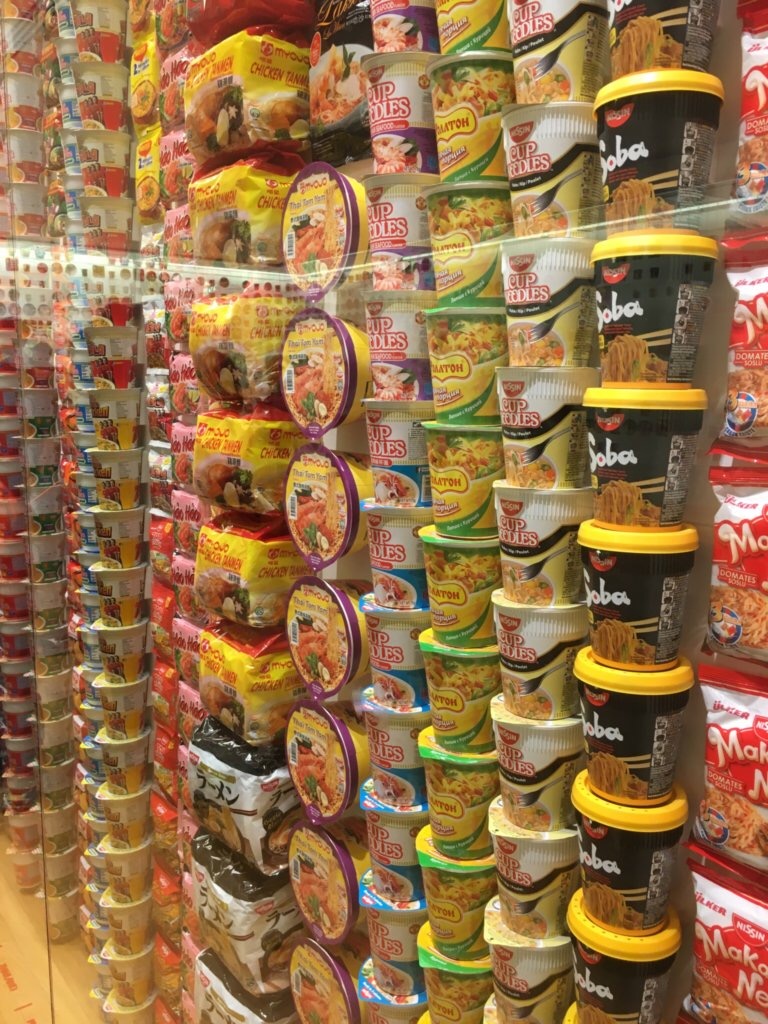 At the back of the second floor, there is a corner with walls lined with instant noodles sold all over the world.
It's fun to walk around looking at the packages of Cup Noodles with unusual names and wondering what they taste like. It's fun to walk around and imagine what they taste like.
Momofuku Ando, inventor of instant noodle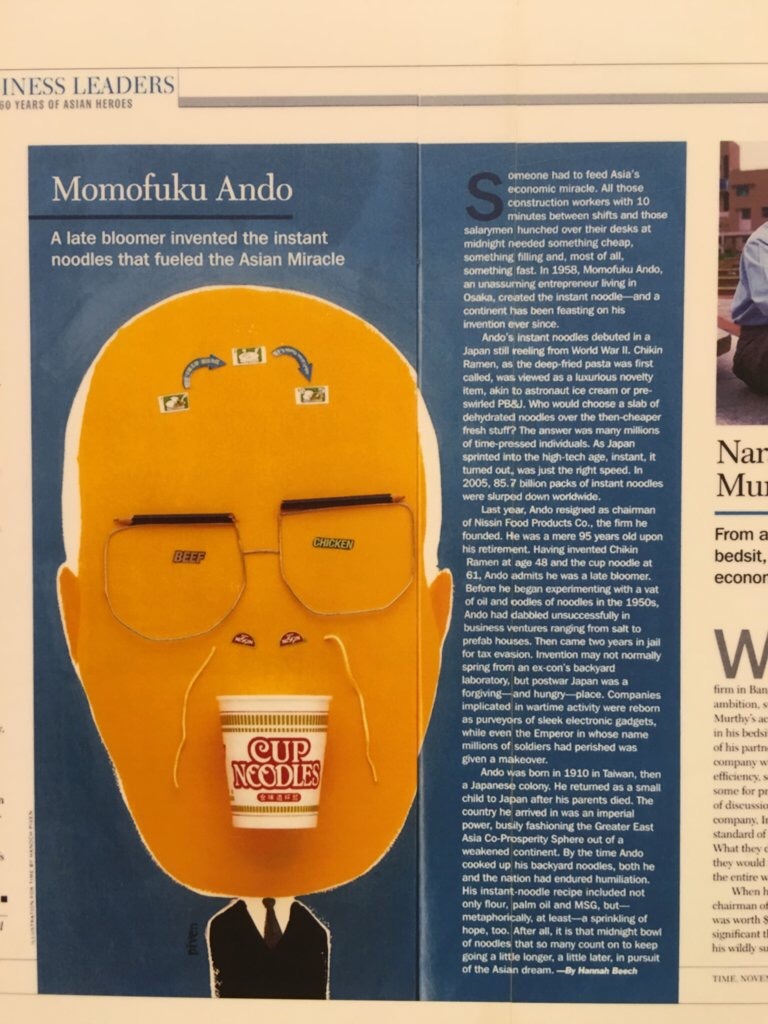 Momofuku Ando developed Chicken Ramen in his 40s from nothing. Today, his son, Hiroki Ando, is the second president of Nissin Food Products.
My Cup Noodle Factory
Making Your Own Cup Noodles
After visiting the exhibition area, let's go to the 3rd floor to experience the My Cup Noodle Factory, where you can make your own cup noodle.
The first step is to pay 300 yen to purchase a Cup Noodle cup. Then, you can draw illustration on the cup with a magic pen to make your own cup.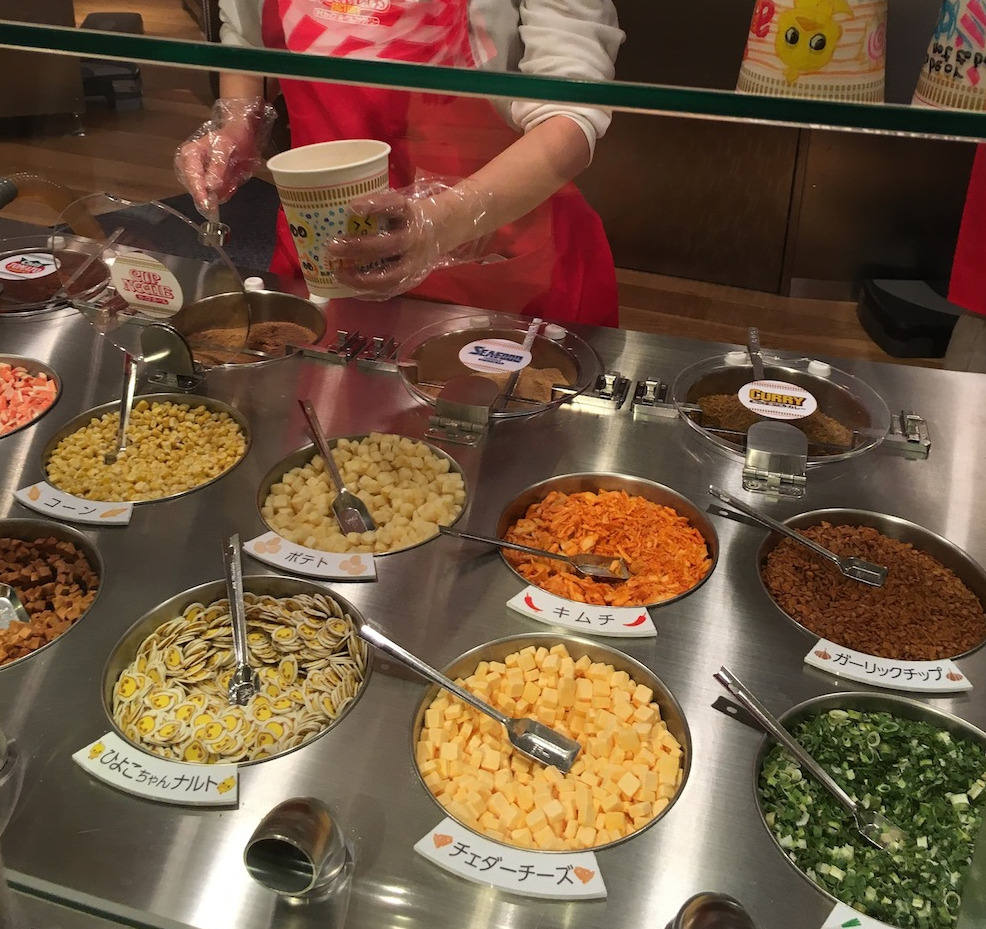 When you have finished drawing, take the cup to the counter and tell the staff what ingredients you want to put in it. The staff will then place the ingredients in your cup, close the lid, and pack it in an air package.
Your own customized cup noodle is now complete. The original cup noodles make a very good souvenir.
Next door is the Chicken Ramen Factory, where you can try your hand at making noodles by reservation only.
Eating at World Noodle Road
A restaurant where you can enjoy noodles and sweets from around the world
On the fourth floor, there is a food court called "Noodles Bazaar – World Noodle Road" where you can enjoy eating noodles and sweets from around the world as if you were at a food stall.
The noodles served here are said to be the ones that Momofuku Ando came across while traveling the world after her son, the second generation, took over as president.
Each noodle is served in half size, so you can order several to compare. I ordered the Malaysian laksa, mini chicken noodle and mango shaved ice.
Souvenirs from the Museum Shop
Cup noodle refills and Hiyoko-chan goods
After enjoying the museum, we returned to the first floor to look for souvenirs.
At the museum store, you could find souvenirs of popular Nissin characters and cup noodle related products.
Among them are Kanto and Kansai versions of local noodles and Chicken Ramen Hiyoko-chan Goods and other items are also available.
One of the most popular is the eco-friendly cup noodles that you can eat in your mug at home. They were also large enough to be easily carried outdoors.
Cupnoodles Museum Yokohama Summary
A place to learn about Momofuku Ando and instant noodles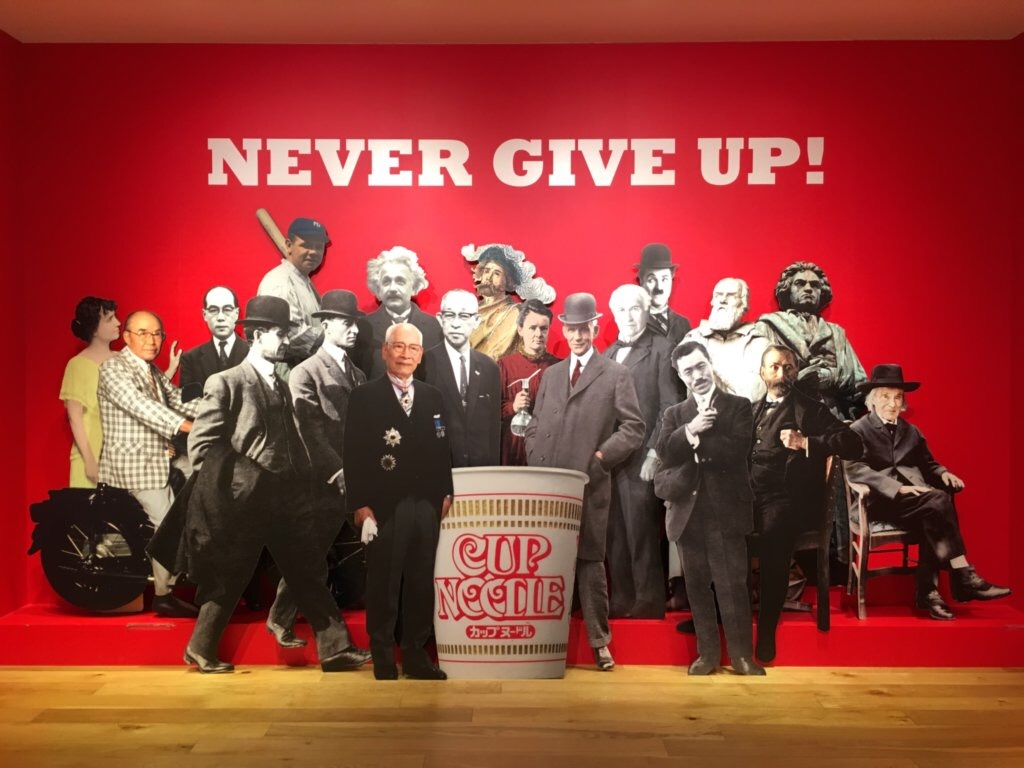 After seeing all the exhibits at the Cupnoodles Museum Yokohama, I was able to learn more about Momofuku Ando's involvement with instant noodles. It was a great opportunity to learn more about the instant noodles that we are familiar with.
When I brought home the original Cup Noodles that I had made in the class, I found that they were much richer and tastier than the store-bought ones. Perhaps the addition of cheddar cheese as a topping was effective.
Access and Opening Hours of Cupnoodles Museum Yokohama
 

| | |
| --- | --- |
| Access | 14 minutes walk from Sakuragicho Station. 1 hour train ride from Tokyo Station. |
| Address | |
| Opening hours | 10:00 – 18:00 (Closed on Tuesdays) |
| URL | Official website |
| Parking | Available: 40 cars (charged) |
Sightseeing spots in the area
In Minato Mirai, there are many sightseeing spots such as Yokohama Cosmo World and Red Brick Warehouse.