Have you ever tried Houtou, a specialty of Yamanashi? Houtou is a local dish made by boiling thick flat noodles in a miso-based broth with lots of vegetables such as pumpkin, mushrooms and burdock.
The other day we went to Koshu Hoto Kosaku Kiyosato, a 5-minute drive from JR Kiyosato Station in Yamanashi Prefecture.
In this article you will find information about the recommended menu at Hoto Kosaku.
Koshu Hoto Kosaku Kiyosato Kogen
Yamanashi Hoto Chain Restaurant
Koshu Hoto Kosaku is a popular Hoto chain restaurant in Yamanashi Prefecture. In addition to Kofu City, there are also shops in Kiyosato, Kawaguchiko and Yamanakako. As it is a famous restaurant, the restaurant is often crowded with tourists on weekends.
The restaurant is open on weekdays out of the tourist season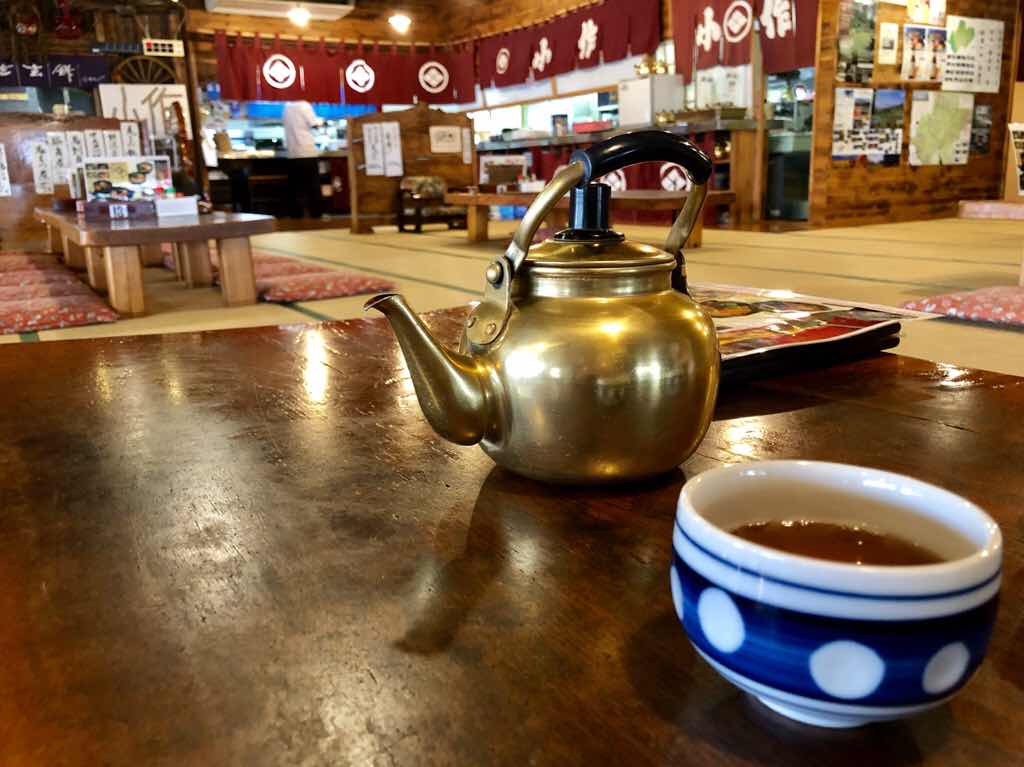 It was the end of March when we visited the Kiyosato Kogen restaurant on a weekday, outside the tourist season. Kiyosato is a highland resort at the foot of the Yatsugatake Mountains. Perhaps because the tourist season has not started yet, there were fewer customers than we expected and we were able to take our seats without waiting in line.
We were seated in a large hall with tatami mats, built in the style of a traditional Japanese house as shown in the photo.
Order the famous Houtou
The famous Kabocha (pumpkin) Houtou
Houtou Kosaku also serves Suiton, Tendon, Hirekatsu and Yakitori as well as Houtou with different ingredients.
The most popular dish on the menu is the Kabocha (pumpkin) Houtou.
Order the pumpkin Hoto and Suiton
As it was our first visit to the restaurant, we decided to order the signature dish, the Kabocha Hoto noodle (1200 yen), and the Suiton (1200 yen), which contains dumplings made from wheat flour dough.
Iron pot of Hoto noodle with lots of vegetables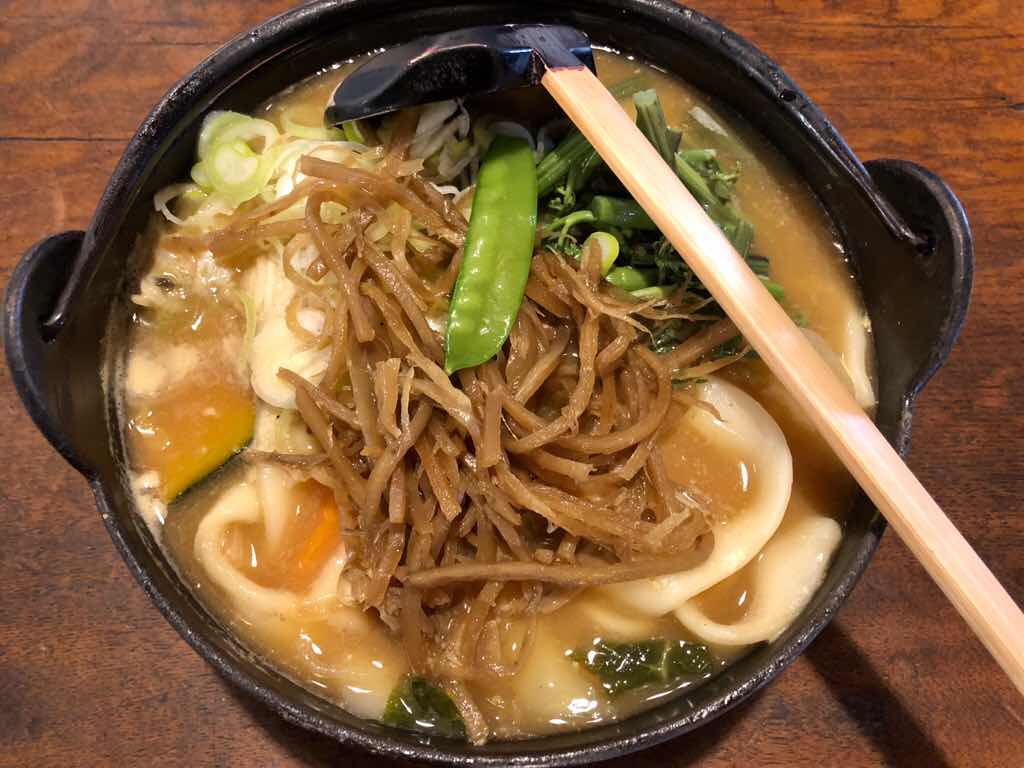 After a short wait, the Kabocha Hoto was served. The hoto noodle was cooked in an iron pot and was topped with spring onions, wild vegetables and burdock root.
The iron pot for one person didn't look very big, but it was filled with root vegetables such as large pumpkins, carrots and taros, as well as shiitake mushrooms, pea pods and Chinese cabbage, making it more filling than it looked.
Suiton has the same ingredients and soup as Houtou
Next, we were served Suiton. It uses the same ingredients and soup as Hoto, only the noodles are different.
Suiton is also a traditional noodle dish made of wheat flour rolled into dumplings. Each dumpling is large and chewy.
If anything, the Hoto was easier to eat as the noodles were covered in the soup, making it easier to hold with chopsticks.
If you are a small eater, you can have one pot for two people
Looking at the table next to us, we saw that a couple of customers had ordered one portion of Hoto noodle and rice balls to share.
The Hoto noodle at Houtou Kosaku is very generous, so if you are a small eater, one hoto for two may be enough. We enjoyed the soup so much that we ended up eating the whole pot without leaving any leftovers.
Summary of the recommended menu at Koshu Hoto Kosaku
This is Hoto! The royal taste of Hoto noodle.
Koshu Houtou Kosaku's Kabocha Houtou is so good that you could say it's the best Houtou. The soup was delicious and we were very satisfied with our fill.
Next time we visit, we will order the Kabocha Hoto noodle, but we would like to try other dishes such as Tempura and Karaage as well.
Access, parking and opening hours of Koshu Hoto Kosaku Kiyosato Kogen
 

| | |
| --- | --- |
| Access | 4 minutes by car from Kiyosato station |
| Address | |
| Opening hours | 11:00~20:00 |
| Parking | Available (free of charge) |