We came to "沼津港 (Numazu Port)" in Shizuoka Prefecture. At the fish market in Numazu Port, fresh fish caught in the seas around Izu and Suruga Bay are sold every day.
Numazu Port is also the largest producer of dried horse mackerel in Japan. As a result, there are many stores right in front of the fish market that sell dried fish and a variety of other processed marine products.
This article describes our visit to Numazu Port in Shizuoka Prefecture, where we ate a fried horse mackerel set meal at the Fresh Fish Restaurant Zuu, and took a walk around the Numazu Fish Market.
Eating places around Numazu Port
First, find a place to have lunch at Numazu Port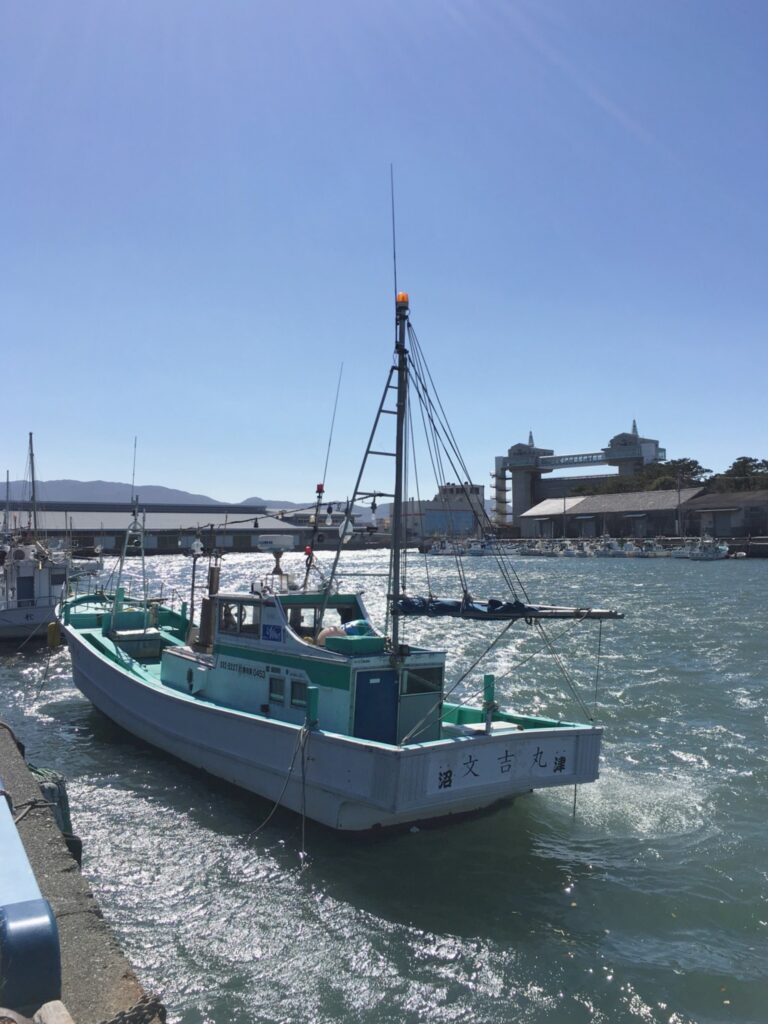 Numazu Port is located at the entrance to the Izu Peninsula. On the day we went out to Numazu Port, it was windy and the waves were a little rough, but the sky was a nice blue color and cloudless. There were many fishing boats anchored there.
Kaiten Sushi (Sushi-Go-Round) and Kaisen-don (Seafood Bowl) Restaurants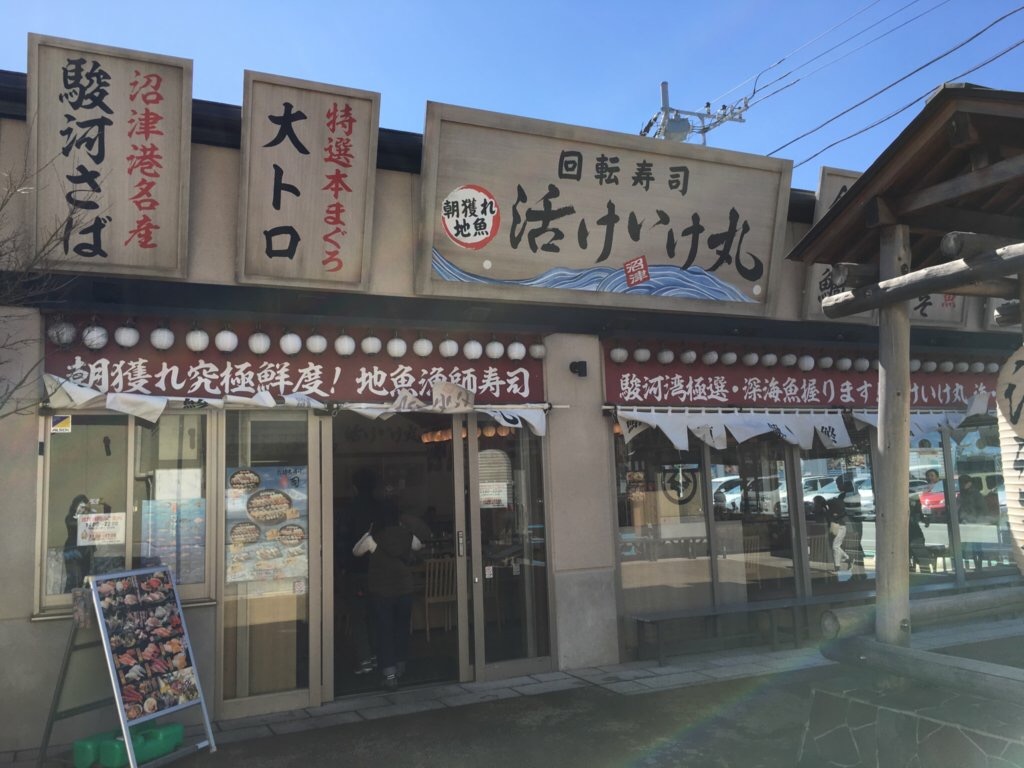 It was lunchtime when we arrived at Numazu Port, so we decided to scout out what kind of restaurants were there.
In the vicinity of the Numazu Fish Market, there was a conveyor belt sushi restaurant serving local fish such as "Suruga Mackerel" and a seafood bowl specialty restaurant serving sea urchin and salmon roe.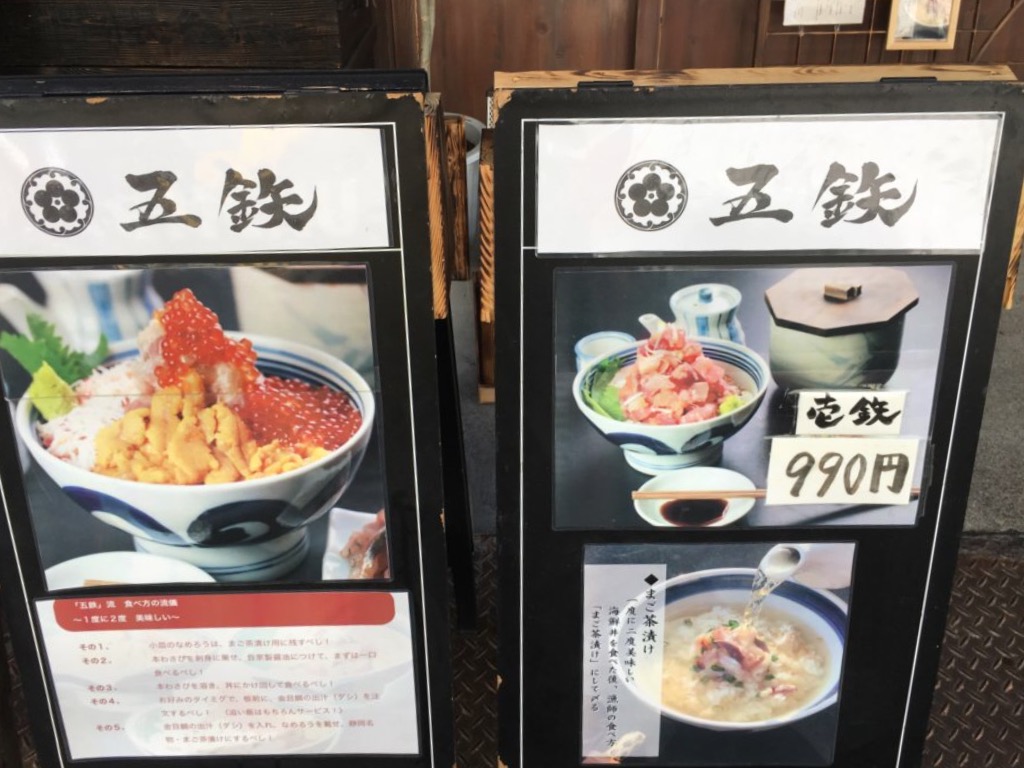 This restaurant is called "五鉄 (Gotetsu)" and is a popular seafood bowl restaurant where you can have ochazuke with sea bream for the rice.
Numazu Minato Shinsenkan
In Numazu Port, there is a shopping center called "Numazu Minato Shinsenkan" where you can find fresh seafood and restaurants. There is a parking lot for large vehicles in front of the museum, and it is always crowded with tourists on bus tours and other groups.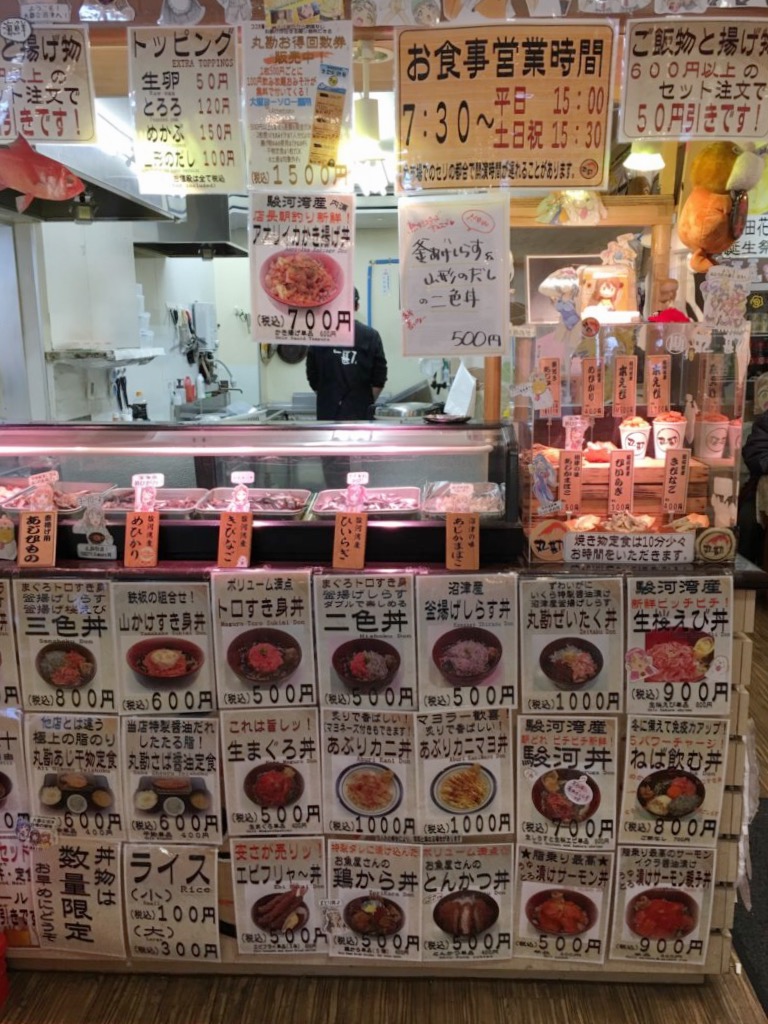 This seafood rice bowl restaurant, one of the tenants, offered a wide variety of seafood bowls such as shirasu-don (bowl of rice topped with young sardines), sakura-ebi-don (bowl of rice topped with a shrimp), and grilledi-crab-don. Looking at the prices, it was not as expensive as I expected, with tuna rice bowl available for 500 yen.
There are also many other places to eat in Numazu Port, such as seafood kakiage restaurants and beach grill restaurants.
A meal at Zuu Fish Restaurant
Restaurant run by a fish broker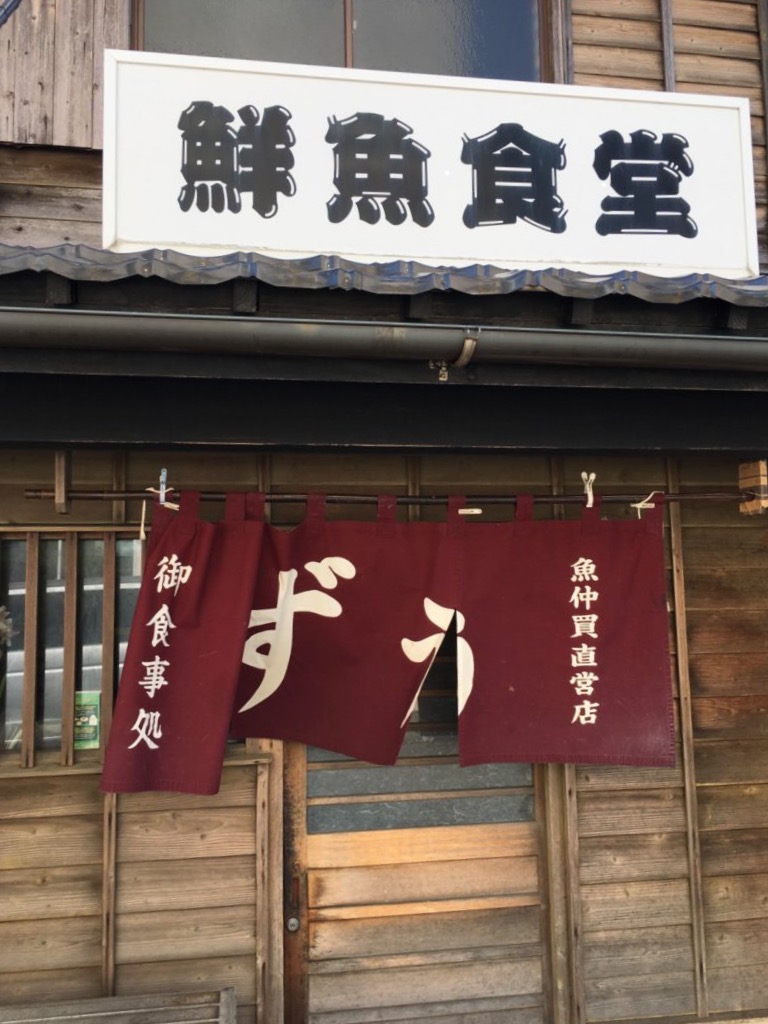 As we were going from store to store, this diner suddenly caught our attention. The sign on the signboard said, "魚仲買直営店" (Directly managed by a fish broker)", which gave it an air of a restaurant for the locals.
This time, we decided to try this "鮮魚食堂ずう (Fresh Fish Restaurant Zuu)".
Access and parking for fresh fish restaurant Zuu
 

| | |
| --- | --- |
| Access | 2 minutes walk from Numazu Minato Shinsenkan. |
| Address | |
| Parking | Using the parking lot at Numazu Port |
Zu's Fried Horse Mackerel and Horse Mackerel Sashimi Set Meal
When we entered the restaurant, the tables were full and there were a few counter seats available. When I looked around, I saw that the most people were eating the Fried Horse Mackerel and Horse Mackerel Sashimi Set Meal (1100 yen), so I decided to order the same thing.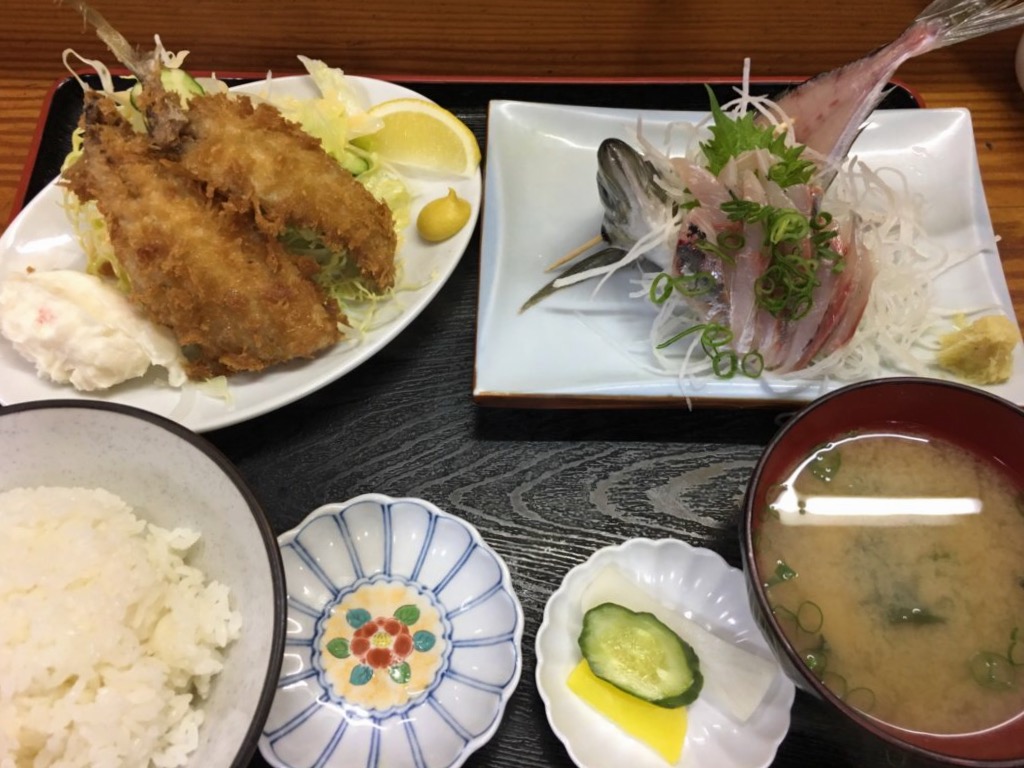 Here is a picture of the fried horse mackerel and sashimi set meal. The amount was not very large, but the horse mackerel sashimi was sweet and fresh, and the fried horse mackerel was fluffy and crispy.
The fried horse mackerel did not have a fishy smell compared to the ones I usually eat, and it was delicious without any sauce.
Numazu Port handles a lot of horse mackerels, so it is possible to eat such fresh horse mackerels. It was a well-balanced meal with both sashimi and fried fish, and I enjoyed each flavor.
Souvenir stores at Numazu Port
Many semi-dried fish shops lined up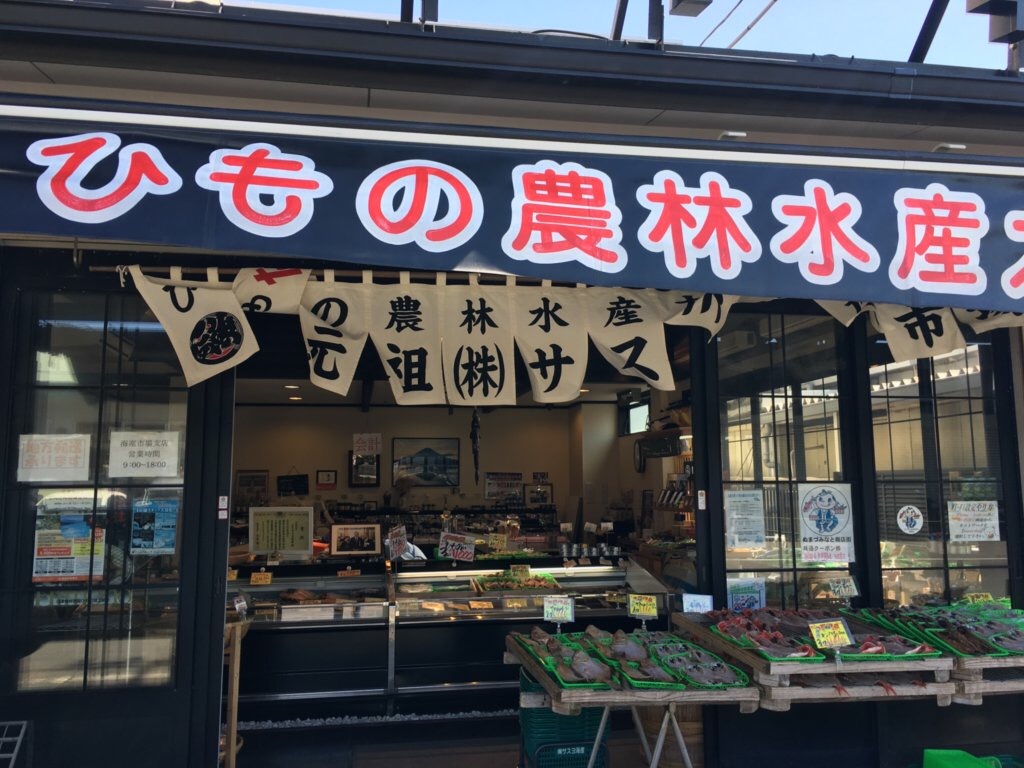 After satisfying ourselves with a lunch of horse mackerel set meal, we took a walk around the fish market. There are dozens of semi-dried fish (Himono) shops in Numazu Port, and some of them allow you to sample their products before buying them as souvenirs.
You can also order your souvenirs to be delivered to your home (only in Japan), so it would be a good idea to try out different stores to see what they have to offer. I think dried horse mackerel, which is the most produced fish in Japan, would be a good souvenir from Numazu Port.
Numazu Port attracts deep-sea fish from Suruga Bay
"港八十三番地" (Port 83)", the street focusing on deep-sea fish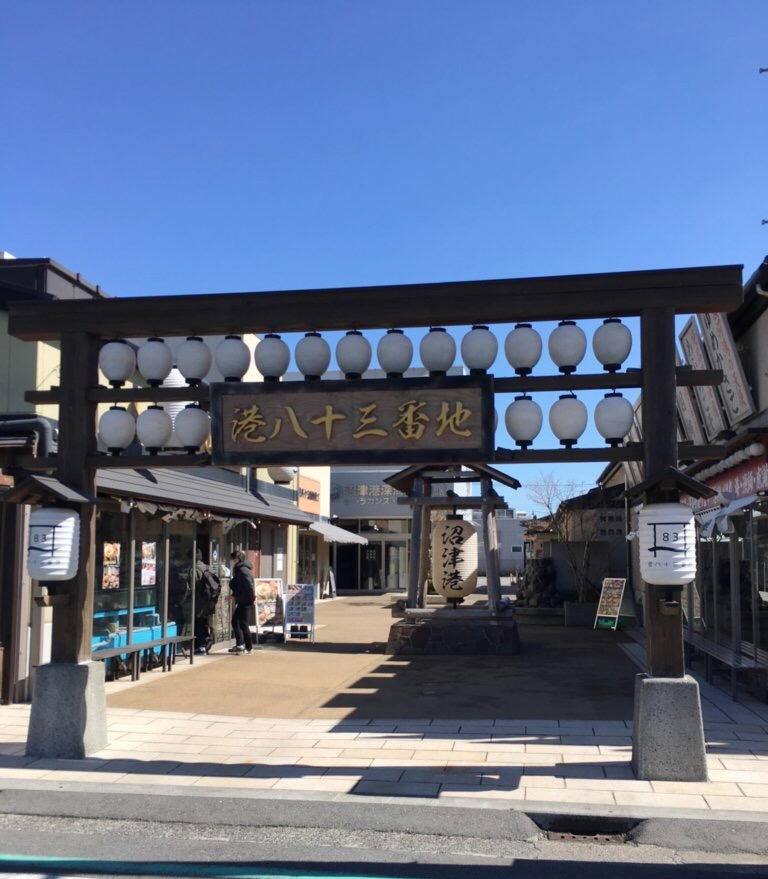 Another place to visit in Numazu Port is "港八十三番地 (Port 83)". This area focuses on "deep-sea fish".
Suruga Bay, facing Numazu Port, is the deepest bay in Japan.
Generally speaking, fish that swim deeper than 200 meters are called "deep-sea fish," and the deepest part of Suruga Bay is 2,500 meters deep.
In 港八十三番地 (Port 83), there are many restaurants that offer deep-sea fish as part of their menu.
Deep Sea Fish Burger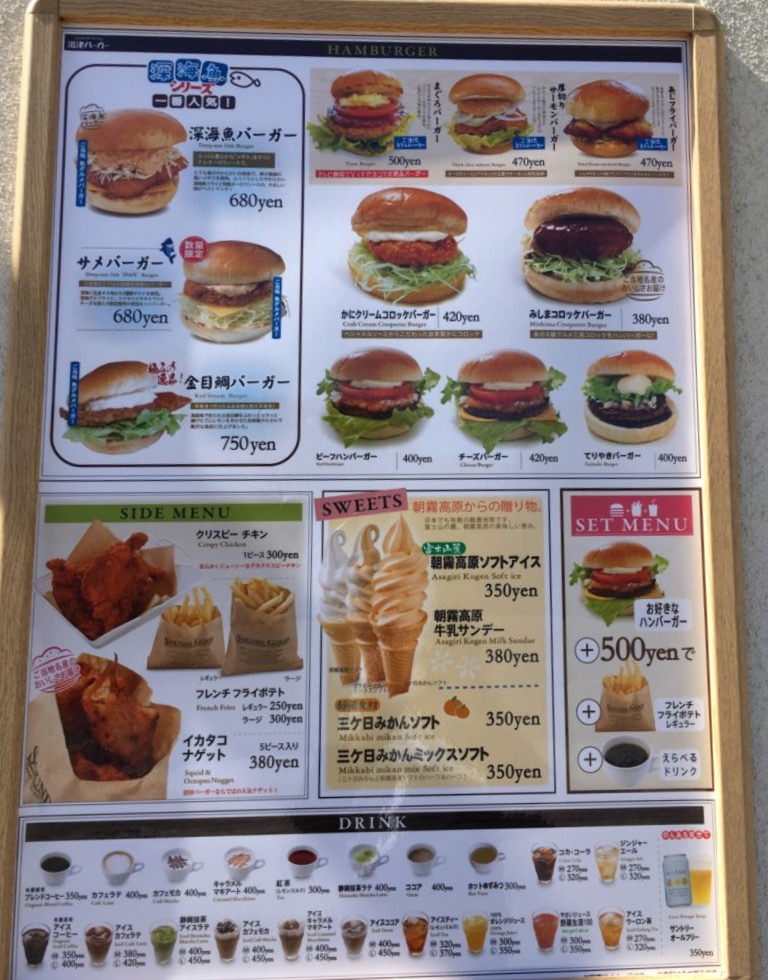 This fast food store, "沼津バーガー (Numazu Burger)", sold a "deep-sea fish burger". Sharks, sea breams, red mullet and scorpionfish are also deep-sea fish.
Numazu Deep Sea Aquarium & Coelacanth Museum
There is also an aquarium where you can see deep-sea fish at 83 Port.
At the Numazu Deep Sea Aquarium and Coelacanth Museum, you can see specimens of coelacanths, which are considered to be living fossils, as well as other deep-sea fish from Suruga Bay.
Summary of the walk in Numazu Port
Numazu Port, close to Hakone, Izu, and Atami
Numazu Port is surrounded by many sightseeing spots such as Izu, Atami, and Hakone, and it is a place where you can easily stop by for a rest or a meal on the way.
In addition to the horse mackerel set meal, I also found some delicious-looking deep-sea fish on the menu at Port 83, which I would like to try the next time I visit.
Access and parking at Numazu Port
 

| | |
| --- | --- |
| Access | A two-hour drive from Tokyo, a 28-minute walk from JR Numazu Station, or a 15-minute bus ride. |
| Address | |
| Parking | For detailed information on parking at Numazu Port, please visit the Numazu Shinsenkan website here. |
Sightseeing spots in the vicinity
In Shizuoka Prefecture, there are many sightseeing spots on the Izu Peninsula, including Mount Fuji and Gotemba Outlets.
Other sightseeing gourmet articles
Click here for gourmet articles on seafood and roadside stations and service areas.