Sanuki udon is a specialty of Kagawa. "讃岐 (Sanuki)" is the former name of Kagawa Prefecture. We always eat udon noodles every day when we go to Kagawa, and we never get tired of it.
The mildly sweet broth, the firm Sanuki udon noodles, and the juicy toppings like deep-fried tofu and tempura are all delicious!
In this article, I would like to introduce some of the famous Sanuki udon restaurants that I recommend in Kagawa Prefecture.
がもううどん "Gamou Udon" (Sakaide City)
Top-ranked udon noodle shop in Sakaide
First up is "がもううどん (Gamou Udon)", located in Sakaide City.
We were driving through Sakaide City in Kagawa Prefecture, and it was just about lunchtime. I was looking for a highly rated udon noodle restaurant based on the reviews on Google Maps, and I found Gamou Udon.
Queue at the entrance of Gamou Udon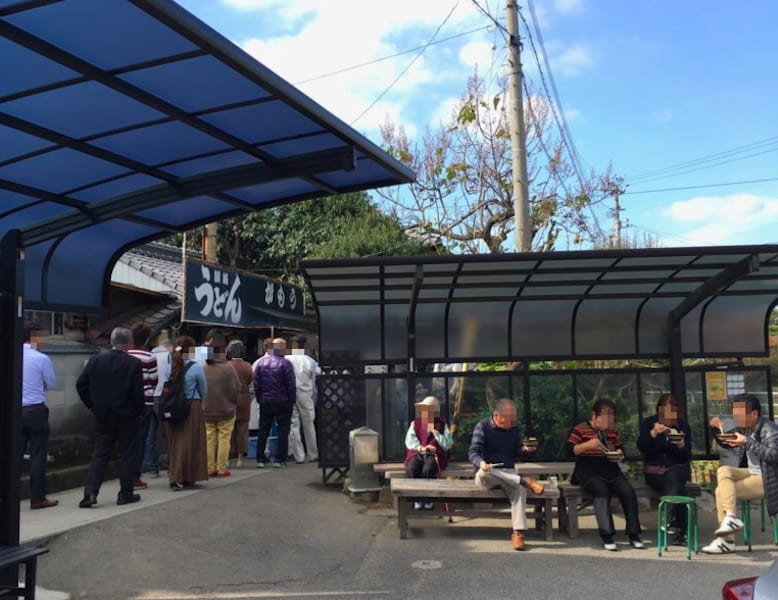 Gamou Udon is a famous noodle shop that is always ranked high in the popularity ranking of Sanuki Udon noodles in Kagawa Prefecture. When we arrived at the shop, there were already about 15 people in line, but the turnover was good and we were able to get in without waiting more than 10 minutes.
Udon noodles topped with a large piece of fried bean curd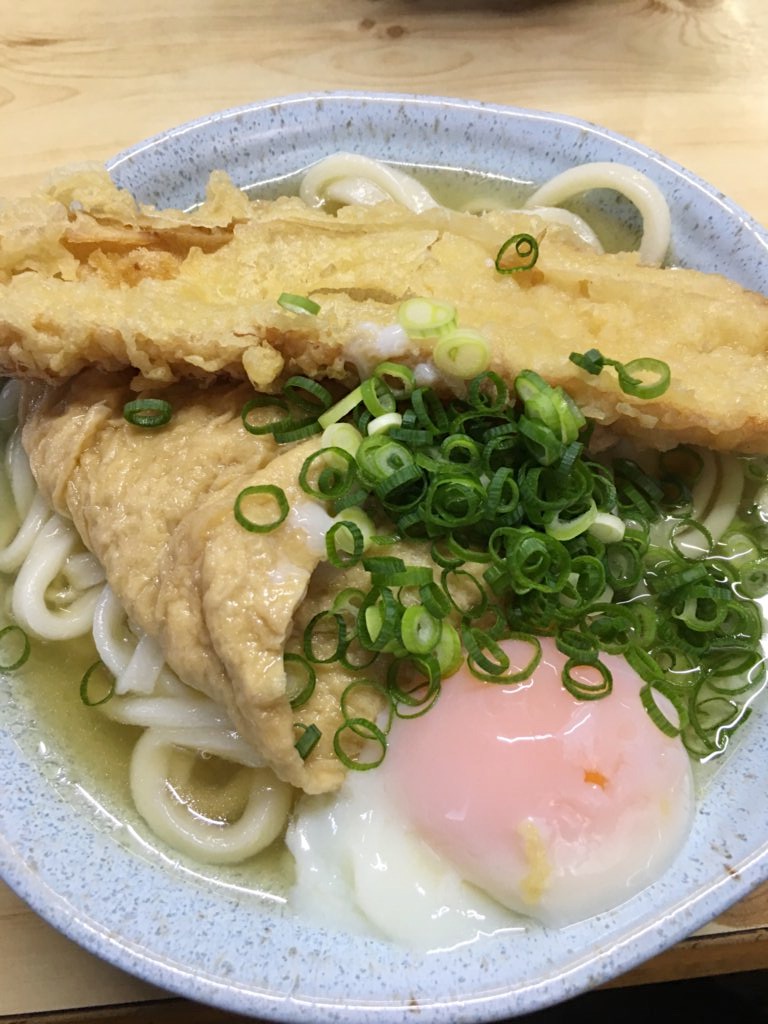 At the counter at the entrance, order a small bowl of udon and some toppings.
Udon noodle small (150 yen)
Deep fried tofu (100 yen)
Chikuwa tempura (100 yen)
Hot spring egg (100 yen)
Hot soup is self-serve. The shop was crowded, but we just sat down when a seat became available and finished our meal in no time.
Comments on Gamo Udon
When I want to eat Sanuki udon noodles in Nagano Prefecture, where I live, I usually go to Marugame Seimen or Hanamaru Udon, both national chains. Gamou's udon has a slightly softer, glutinous texture that is different from the firmness of chain stores' udon noodles.
The light broth is also delicious, and I was impressed by the low price of 450 yen even with various toppings. Whenever I want to eat udon in Sakaide City, I will stop by Gamou Udon again.
Access, parking, and hours of operation for Gamou Udon
 

| | |
| --- | --- |
| Access | J5 minutes drive from JR Kamogawa Station, 15 minutes walk. It is a 10-minute drive from the Fuchu Lake Smart IC to the store. |
| Address | |
| Opening hours | 8:30~14:00(Closed on Sundays and Mondays) |
| Parking | Free parking is available for about 50 cars. |
うどんバカ一代 "Udon Baka Ichidai" (Takamatsu City)
A restaurant with a long queue for its popular Kama Butter Udon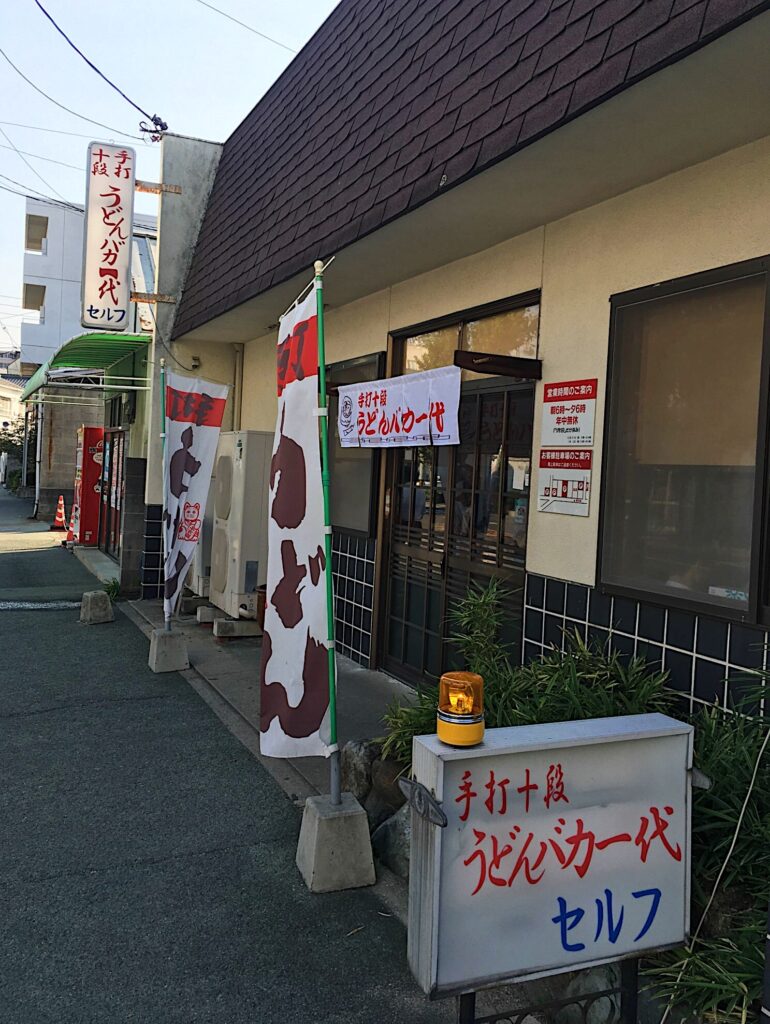 The next shop I'd like to introduce you to a Sanuki udon restaurant near Ritsurin Park in Takamatsu City, called "手打十段うどんバカ一代". Here is the entrance to the store. Baka Ichidai is known for the long lines that form in front of the store on weekends and holidays.
The famous Kama Butter Udon
At Udon Baka Ichidai, the "Kama Butter Udon" is very popular, so I ordered a small bowl of Kama Butter Udon, Chikuwa (a tube‐shaped fish paste cake) and fried tofu.
Kama-butter Udon – small (490 yen)
Chikuwa (90 yen)
Deep fried tofu (100 yen)
Crack a raw egg on top of the butter-melted udon, then stir the whole thing well and eat.
Comments on the Kama Butter Udon
Kama Butter Udon definitely has a similar taste to carbonara. The black pepper sprinkled on the udon noodle gave it a tangy accent, and even though it had butter in it, it wasn't overpowering, and the smooth, slippery texture made it go down very quickly.
Udon Baka Ichidai's udon noodles were also fluffy, yet firm and delicious.
Access, parking, and hours of operation for Baka-Ichidai
 

| | |
| --- | --- |
| Access | JR高松駅から徒歩30分。車で10分。 |
| Address | |
| Opening hours | 6:00~18:00 |
| Parking | Available (free of charge) There is a parking lot in the back of the store where you can park about 30 cars. |
本場さぬきうどんや "Honba Sanuki Udon-Ya" (Higashikagawa City)
Sanuki udon shop near the border of Tokushima Prefecture
The third udon shop we will introduce is 本場さぬきうどんや "Honba Sanuki Udon Ya" in Higashikagawa City.
Honba Sanuki Udon Ya is located near the border with Tokushima Prefecture, making it a very convenient place for those who want to eat Sanuki udon noodle as soon as they arrive in Kagawa.
Three tempura's for 100 yen, cheap and tasty!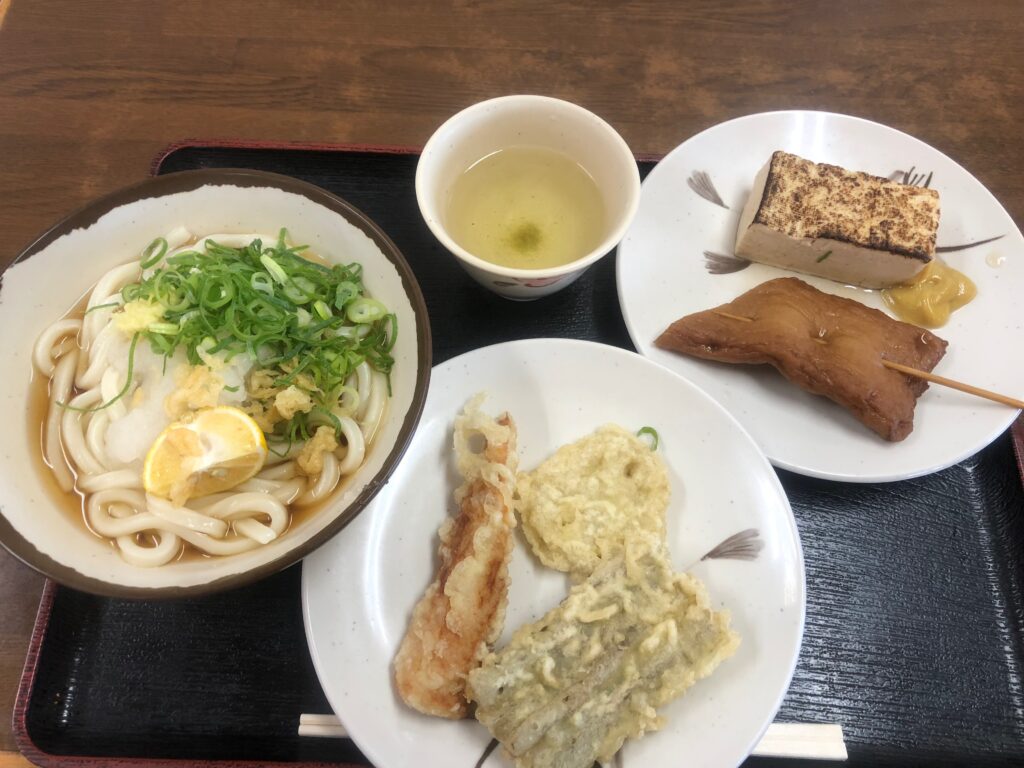 As soon as you enter the restaurant, you will be asked to place your order. There is a menu list with pictures in front of the entrance of the restaurant, so you can decide in advance.
At Sanuki Udon Ya, I ordered a small bowl of bukkake udon (290 yen). My bowl of bukkake udon was served immediately, with yuzu and grated daikon on the side.
Then, I put the side dish of tempura on the plate by myself. You can choose from a variety of toppings, such as fried horse mackerel, shrimp tempura, and fried squid tempura. I chose three tempura items: lotus root, burdock root, and chikuwa.
All the tempura on the lower tier, including vegetables, chikuwa, and sausage, were priced at a very cheap 100 yen for three.
Next to the tempura shelf, there was an oden pot where the ingredients were simmering. I chose grilled tofu and fish cake from among them.
I ordered a small bowl of udon to make up for the extra portions on the side menu, but even with all this, the price was only 590 yen.
Comments on Honba Sanuki Udon Ya
Honba Sanuki Udon Ya is a restaurant located by the sea. From the covered terrace seats, you can have your meal while looking at the ocean in front of you.
The restaurant is open from 9:20 a.m., so you can have Sanuki udon noodle for breakfast.
The bukkake udon is served with yuzu (or lemon, depending on the season), and you can squeeze plenty of juice on it. The noodles are not very firm, but they are easy to eat.
The topping of lotus root tempura was crispy and crunchy, and the burdock tempura had a juicy flavor with sweetly cooked ingredients.
Most of the dishes were moderately salty, and the flavors were so reassuring that I would not get tired of eating them every day.
Access, parking, and hours of operation for Honba Sanuki Udon Ya
 

| | |
| --- | --- |
| Access | A 30-minute drive from the Onaruto Bridge. |
| Address | |
| Opening hours | 9:00~15:00 |
| Parking | Available (free of charge) |
Summary of Popular Sanuki Udon Restaurants in Kagawa
All of the Sanuki udon restaurants introduced in this article are delicious and highly recommended.
Just writing about them makes me want to go out to eat them again. ……
Other Udon Noodles Eating Reports from Around Japan
For other udon eating reports from around Japan, please see the articles below.