Nagano Prefecture is famous for its soba (buckwheat) noodles. "戸隠蕎麦 (Togakushi soba)" is one of the three most famous soba in Japan, along with wanko soba and Izumo soba.
This article describes our visit to the popular Togakushi Soba restaurant, Uzura-ya, and how we ate their soba dishes.
Soba Noodles at Uzura-ya
A famous Togakushi soba restaurant
At the foot of Mount Togakushi, a 40-minute drive north of Nagano Station, there is the Togakushi Shrine, known for the legend of the arrival of Amano-Iwato. There is a soba noodle restaurant called "Uzura-ya" just a short walk from the middle shrine of this Togakushi Shrine.
Uzura-ya is a famous Togakushi soba restaurant that is always ranked among the most popular soba restaurants in Nagano Prefecture.
Ordering soba dishes
On this particular day, we ordered Sobagaki, Soba Tofu, and Tempura Soba Noodle at Uzuraya.
When we sat down, we were first served tea and pickles. Yuzu-flavored pickled Chinese cabbage is drizzled with soy sauce.
The combination of crunchy asazuke and soy sauce is enough to make you want to eat a bowl of rice.
Sobagaki is a simple taste of 100% buckwheat flour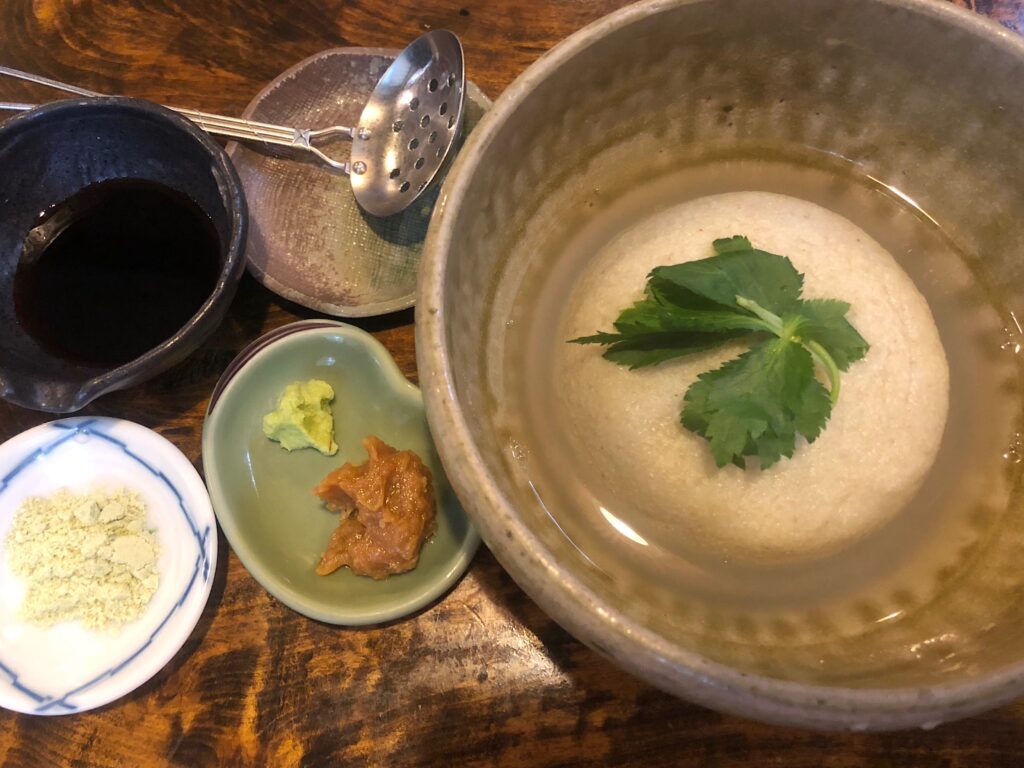 Sobagaki is made by kneading buckwheat flour with boiling water. Uzuraya's Sobagaki is made from 100 percent buckwheat flour ground in a stone mill.
Sobagaki has a fluffy texture and a light flavor. It can be served with dipping sauce or with your favorite condiments such as miso, wasabi, or soybean flour.
Soba Tofu has a strong buckwheat flavor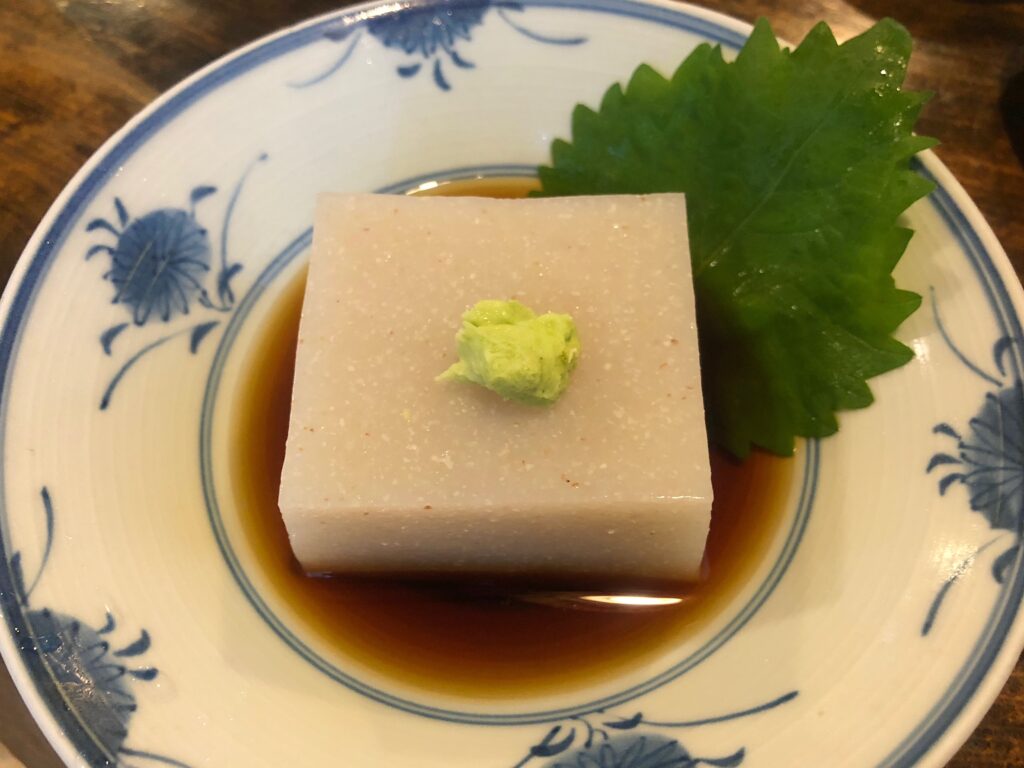 Soba Tofu is made by mixing buckwheat flour, buckwheat seeds, and Yoshino kuzu. It has a resilient texture and is very tasty with a rich, salty flavor from the dipping sauce. It is a highly recommended dish with the flavor of the buckwheat.
Tempura Zaru Soba served with fresh wasabi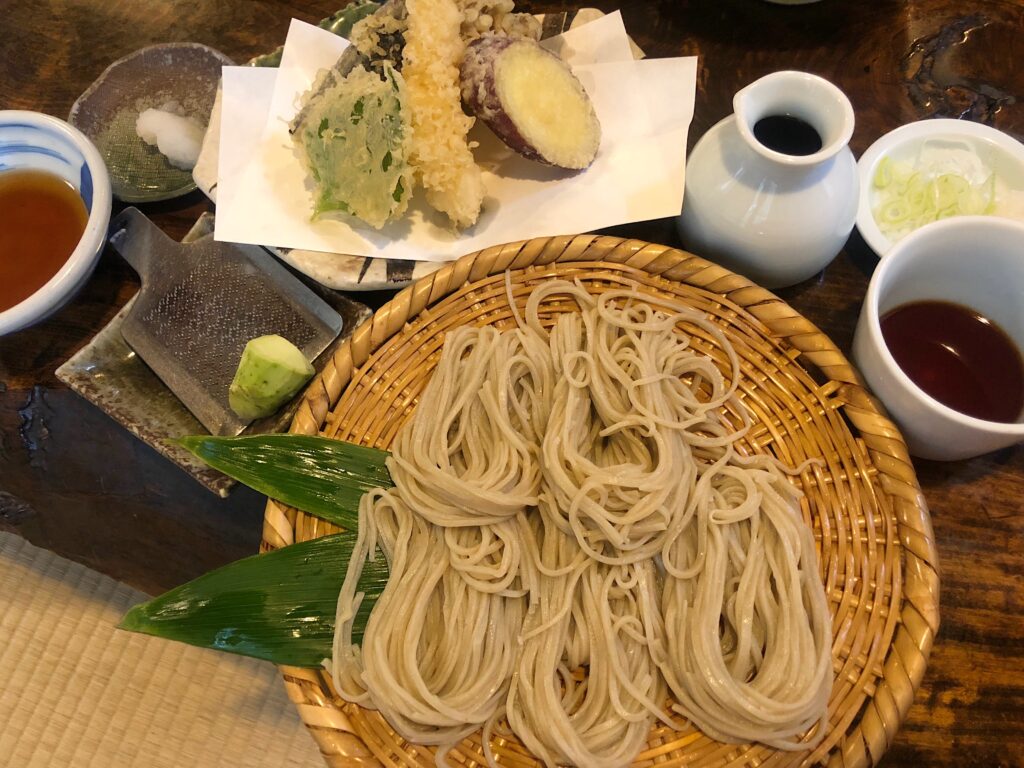 Uzura-ya's zaru soba is served on a bamboo crafted plate, a traditional craft of Togakushi. Togakushi soba is characterized by its small portions of bocchi.
The thin, firm soba noodles are served with tiger prawn and vegetable tempura for a guaranteed taste.
The cold zaru soba is served with a large piece of fresh wasabi, which you can grate yourself and use as a condiment. The fresh wasabi is mildly spicy, so you can add as much as you like.
Togakushi Soba|Uzuraya's Soba Menu Summary
Recommended Soba Restaurant in Togakushi
For those of you who want to try the popular soba noodles in Togakushi, Uzura-ya is the place to go. If you are on a trip to Togakushi and want to enjoy soba dishes such as soba gaki and soba tofu, why not stop by?
Uzuraya Access, Parking, and Hours of Operation
 

| | |
| --- | --- |
| Access | One minute walk from the entrance of Togakushi Nakasha Shrine. It is a 5-minute drive from the inner shrine of Togakushi Shrine. |
| Address | |
| Opening hours | 10:30〜16:00(Closed on Wednesdays) |
| URL | 公式サイト |
| Parking | Yes (free parking for a few cars, use the pay parking lots in the area for basic parking) |
Other Nagano gourmet articles
For other gourmet articles on Nagano Prefecture, please click here as well.