One of the most enjoyable things to do after visiting a shrine or temple is to eat local specialties at the stores along the approach.
Next to the Inner Shrine of Ise Jingu in Mie Prefecture, popularly known as Oise-san, there is a spot called "Okage Yokocho" that is crowded with tourists all year round.
In this article, I would like to introduce my visit to Okage Yokocho Walk, where I ate Ise udon, Akafuku and other Ise specialties.
What is Okage Yokocho Walk?
A street of a gate town next to the Inner Shrine of Ise Jingu
Okage Yokocho Walk is a sightseeing spot for visitors to Ise Shrine, and is a street that recreates the atmosphere of an old gate town.
On this street, you will find many snack shops, sweet shops, and souvenir shops selling local specialties such as Ise udon.
Introducing Ise specialties in Okage Yokocho Walk
赤福 Akafuku (Inner Shrine Branch)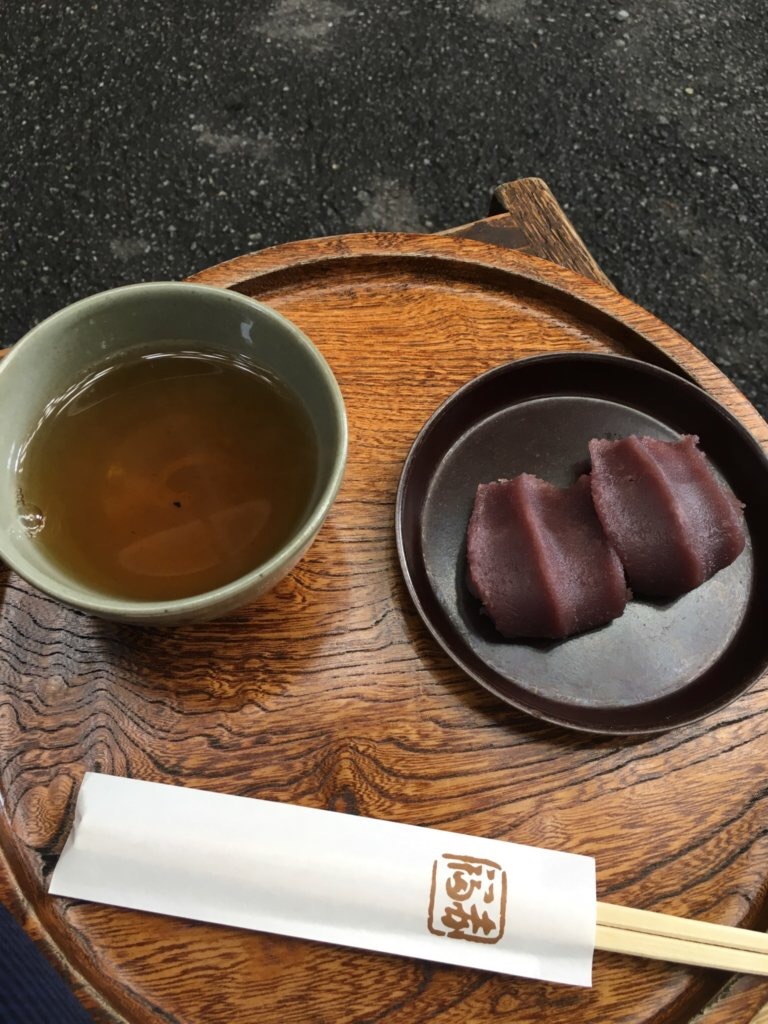 As you walk from the Ujibashi Torii Gate of Ise Jingu (Inner Shrine) toward the street of Okage Yokocho Walk, you will see a large signboard of "赤福" Akafuku on your right.
Nowadays, Akafuku rice cakes are readily available at department stores and highway service areas in the Kansai and Tokai regions, but in Okage Yokocho Walk, you can enjoy freshly made Akafuku rice cakes on the spot.
Akafuku is one of the most popular sweets in Ise. After taking a break, I ordered a menu that I could eat on the spot. It was 210 yen for two Akafuku mochi with tea.
The freshly made Akafuku Mochi is just the right sweetness for a tired body after a long day of walking. The Inner shrine branch of Akafuku  also offered shaved ice and zenzai.
まる天 Isoage no Maruten ( Inner Shrine Branch )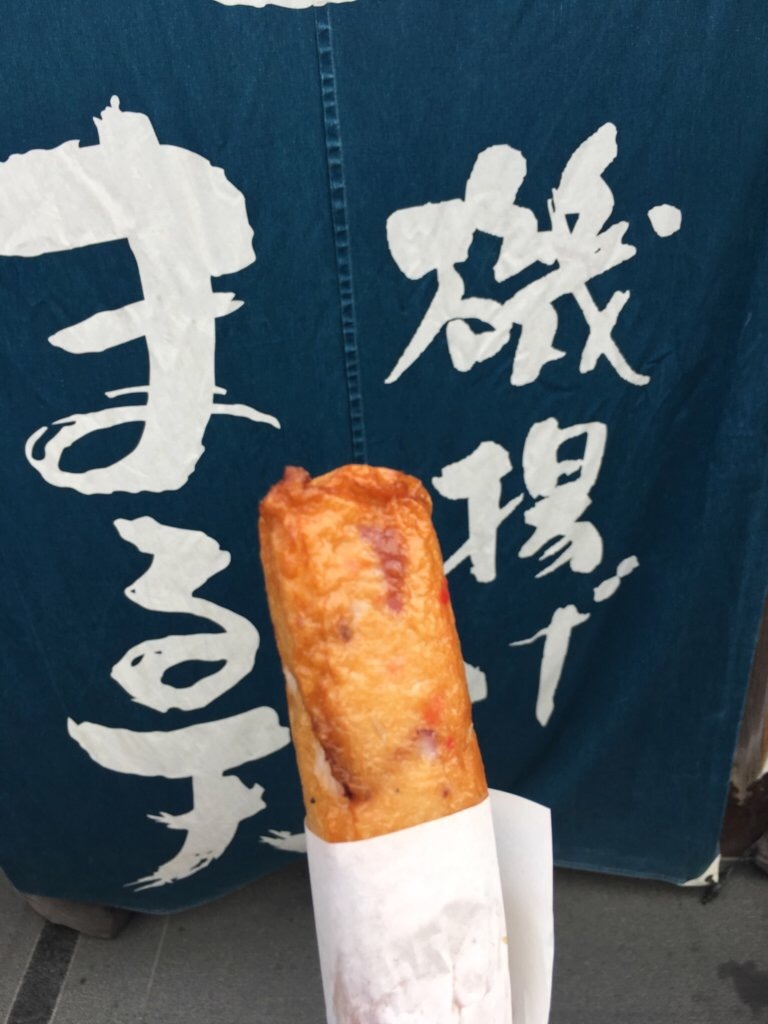 Next, I would like to introduce "まる天" Maruten, famous for its fried seafood based in Ise City, Mie Prefecture. At Okage Yokocho Walk, I ordered Maruten's popular "たこ丸 (Takomaru)" (380 yen). The octopus meat is well filled seafood paste, freshly fried and fluffy, and very satisfying.
Maruten's iso-age is now sold in stores all over Japan. But it's delicious, so I buy it whenever I see it.
ふくすけ Fukusuke's Ise Udon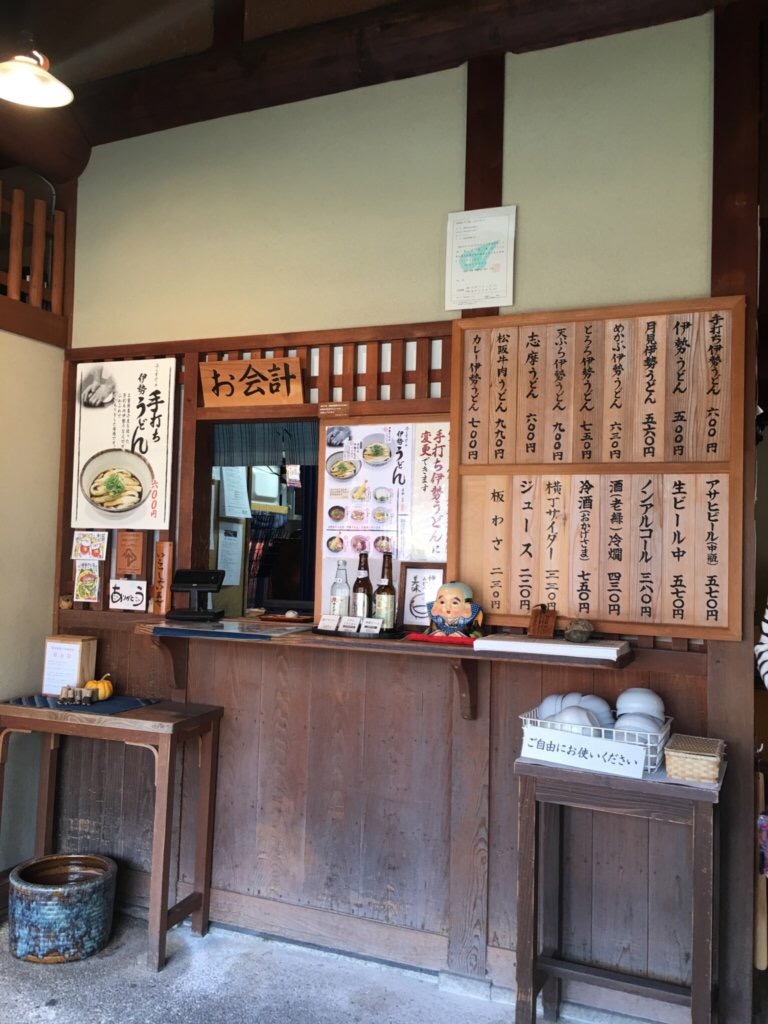 Next up was Ise udon, a local delicacy in Ise City. This was my first time to try Ise udon.
I decided to try the standard taste first, so I went to Fukusuke, a long-established restaurant in Okage Yokocho. At Fukusuke, we ordered and paid at the checkout counter. So I ordered the popular Tsukimi Ise Udon for 560 yen.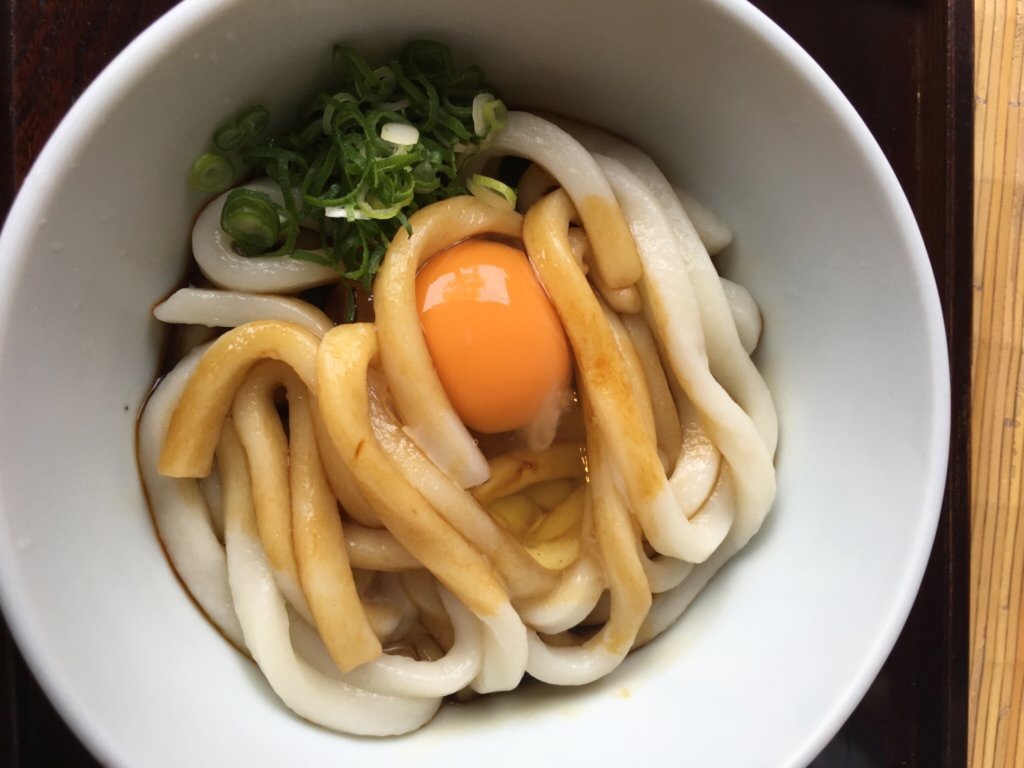 Here is the Tsukimi Ise Udon I ordered. I had heard that Ise udon is "very soft noodles," so I imagined the noodles to be overcooked and stretched. However, the texture was completely different from that.
Maybe it was the raw egg in it, but it had a fluffy meringue-like chewiness that made it addictive. I'm curious to know how it's made.
I thought udon was just thin and thick, but there' s a lot more to it than that.
Other facilities in Okage Yokocho Walk
Facilities to learn about Japanese mythology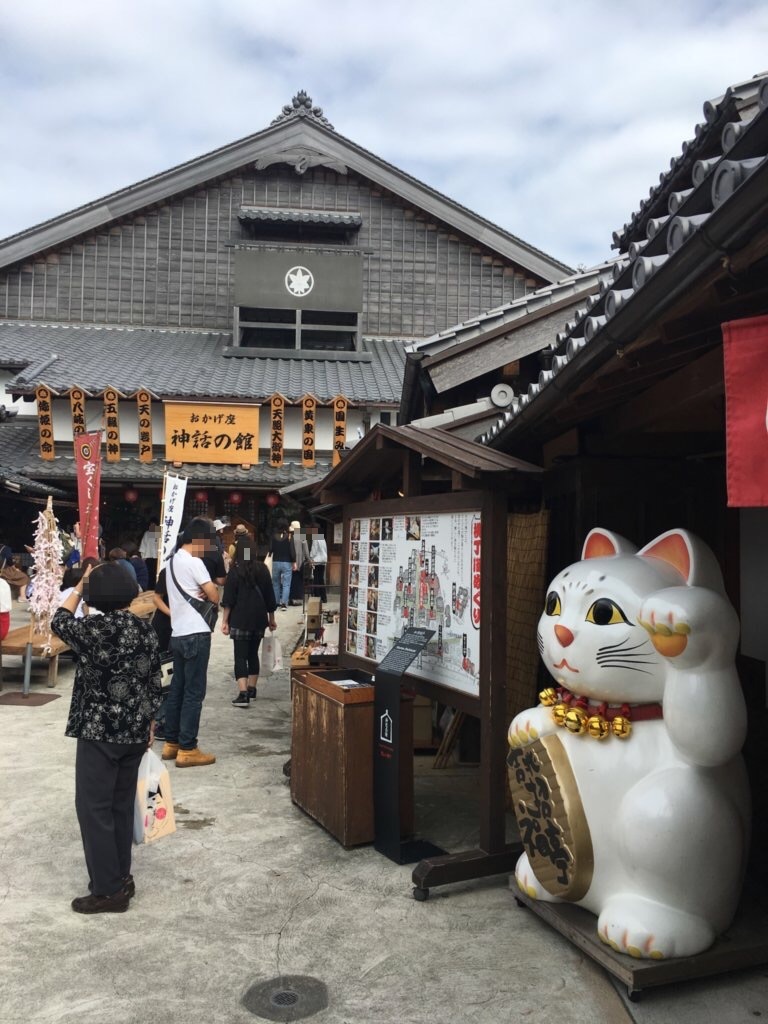 Okage Yokocho Walk has not only food shops, but also taiko drum performances and hands-on facilities where you can paint beckoning cats and frames.
I also found a "Mythology Hall" in one corner of the street. It's a facility where you can learn about Japanese mythology through paper dolls.
Summary of Okage Yokocho Walk
A street where you can enjoy a variety of Ise specialties
In addition to the foods introduced today, Okage Yokocho Walk is lined with stores selling Matsusaka beef croquettes, kushikatsu (fried pork cutlets on skewers), and Ankoro Mochi green tea soft drinks, so you can enjoy eating and walking to your heart's content.
There are also many souvenirs such as the "Okage Dog" character, Akafuku's "Akataro" goods, and traditional crafts of Mie Prefecture.
Why don't you stop by at Okage Yokocho Walk on your way back from visiting Ise Jingu?
Okage Yokocho Walk Access, Parking, and Opening Hours
 

| | |
| --- | --- |
| Access |  3 minutes walk from the Ujibashi Torii Gate of the Inner Shrine of Ise Shrine. |
| Address | height="300″ frameborder="0″ allowfullscreen="allowfullscreen"> |
| URL | Official website |
| Opening hours | 9:30~17:00 (varies by store) |
| Parking | There are several paid parking lots in the vicinity. For details, please refer to the Raku Raku Ise Moude website. |
Other gourmet spots in Mie Prefecture
Matsusaka beef is also a popular specialty in Mie Prefecture.