There are many museums in Japan that display not only Japanese paintings, but also western, oriental, and Asian paintings.
One of them is the Otsuka Museum of Art in Tokushima Prefecture, where you can see Western paintings from ancient to modern times on ceramic boards.
This article introduces the highlights of the Otsuka Museum of Art, which has the highest admission fee in Japan.
About Otsuka Museum of Art
An art museum where you can find your favorite Western art paintings
Visiting art museums around Japan is one of the pleasures of traveling.
As you visit more and more museums, you will gradually learn which genres and artists' works you like. When you think about it, visiting art museums can be considered a part of your journey to know yourself.
It would be nice if we had the opportunity to see many works of art on a regular basis, but visiting museums not only in Japan but all over the world would take a lot of days and cost a large amount of money.
If you have a wish to see all the famous Western art paintings from around the world at once, I recommend you to go to the Otsuka Museum of Art in Tokushima Prefecture to give it a try.
The most expensive museum in Japan
The Otsuka Museum of Art is an art museum that exhibits many ceramic paintings by masters of Western art.
The entrance fee to the museum is 3300 yen for adults, which is not cheap at all.
However, for those who want to learn more about Western art and want to see famous works in historical order, it is probably not that expensive.
A museum where you can freely touch and photograph the artworks
The works displayed at the Otsuka Museum of Art are reproductions, so none of them are the real thing. However, all of the works, which are burned into ceramics, have been retouched and elaborately crafted.
One of the great features of the Otsuka Museum of Art is that you can get close to the real-size paintings, touch them, look at them closely, and take photos of them at your leisure.
Of course, if it is a real painting, you are not allowed to touch it. In some cases, there is a protective fence that prevents you from even standing near the work.
Even if you know it's a fake, you may be more than a little impressed when you can actually touch your favorite work.
Highlights of the Otsuka Museum of Art
A five-story building in the middle of a mountain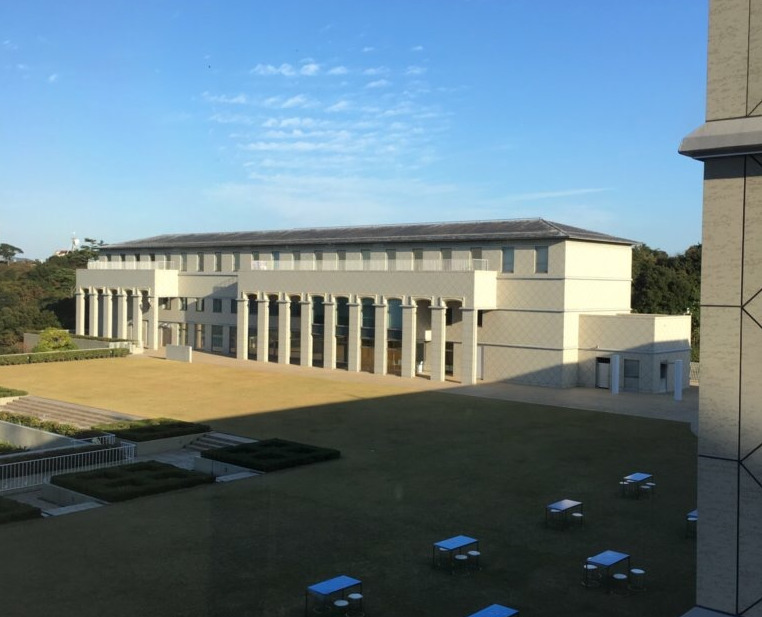 One of the unique characteristics of the Otsuka Museum of Art is that the building is located in a mountain. The two-story building seen at the top of the mountain is only a small part of the entire museum.
The entrance to the museum is located at the lowest point of the mountain, which is the trailhead, and from there, you have to climb a long escalator to reach the third basement floor.
From the third basement floor to the second floor above ground are the museum's exhibition floors, and you can go up one floor at a time to view the artworks.
More than 1,000 works of art from ancient to modern times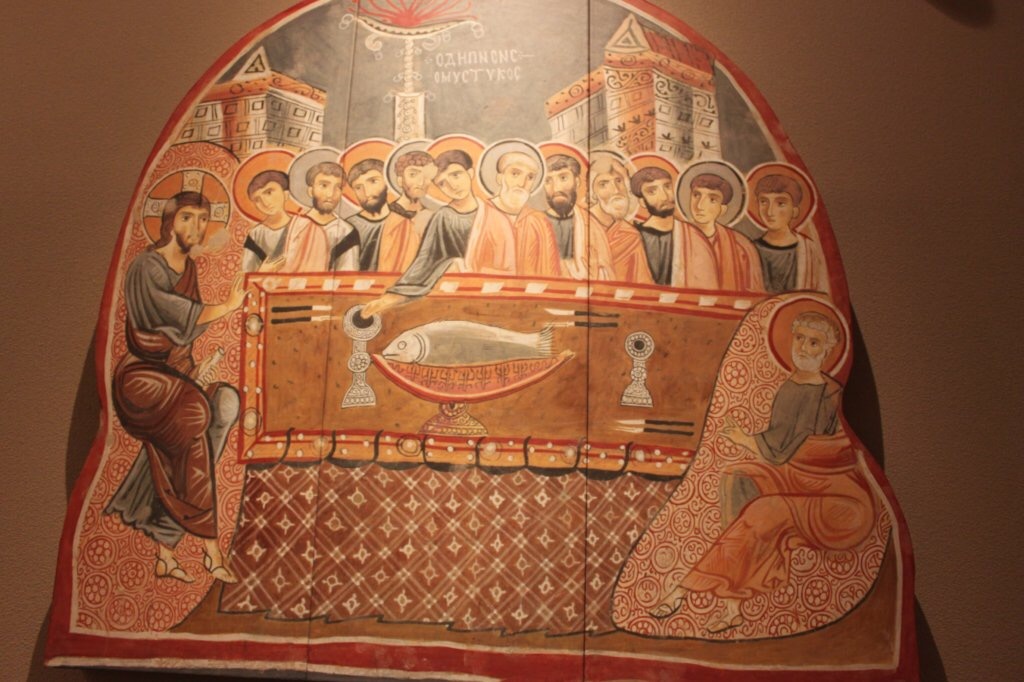 The Otsuka Museum of Art houses reproductions of Western artworks from antiquity, the Middle Ages, the Renaissance, the early modern period, and the present day.
The third basement floor is lined with ancient and medieval religious paintings of Christ.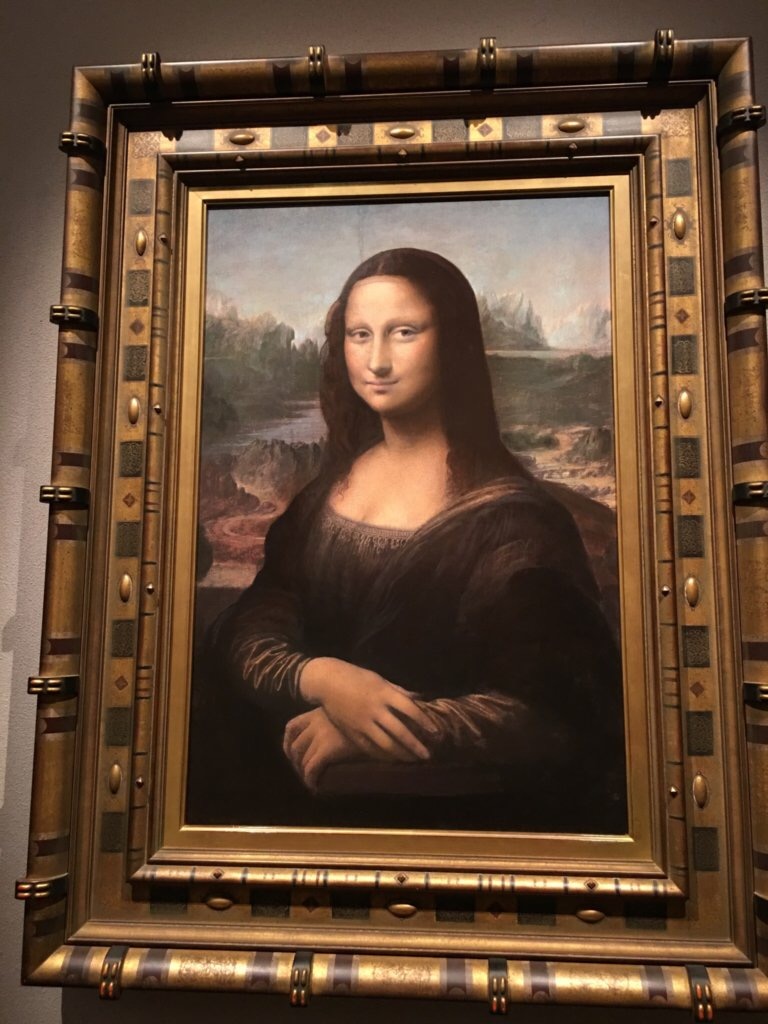 On the second basement floor, works from the Renaissance and Baroque periods are displayed. Leonardo da Vinci's "Mona Lisa" and "The Last Supper" can also be seen here.
"The Last Supper" before and after restoration
Leonardo da Vinci's work, The Last Supper, was under restoration until 1999.
At the Otsuka Museum of Art, you can see two copies of the mural, one before and one after restoration, side by side.
To see the real "Last Supper" in Milan, Italy, you need to make a reservation in advance, and admission is restricted. Therefore, the opportunity to see the two murals in such close proximity is only available at the Otsuka Museum of Art.
Modern Western paintings such as Klimt, Van Gogh, and Millet's Fallen Leaf Pickers
On the basement floor, there are reproductions of works by modern artists. In addition to Klimt's "The Kiss," you will find familiar works such as Van Gogh's Sunflowers and Millet's the Gleaners.
Contemporary artists on the first and second floors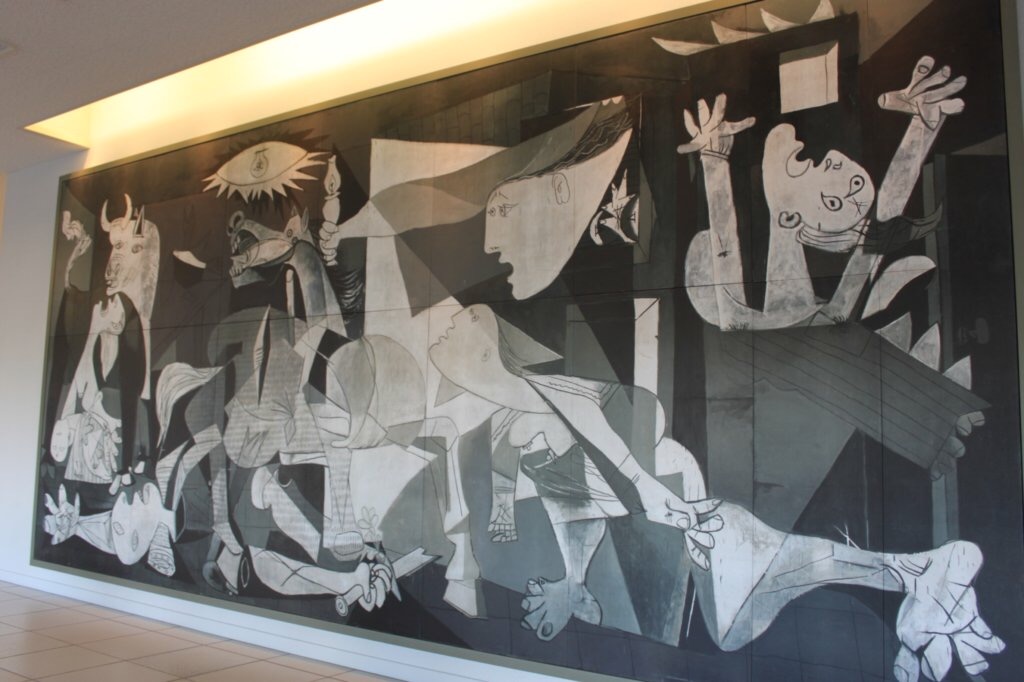 The first and second floors are decorated with ceramic paintings by contemporary artists and themes. This is Picasso's Guernica.
Environmental exhibits such as the Sistine Chapel and Monet's Water Lilies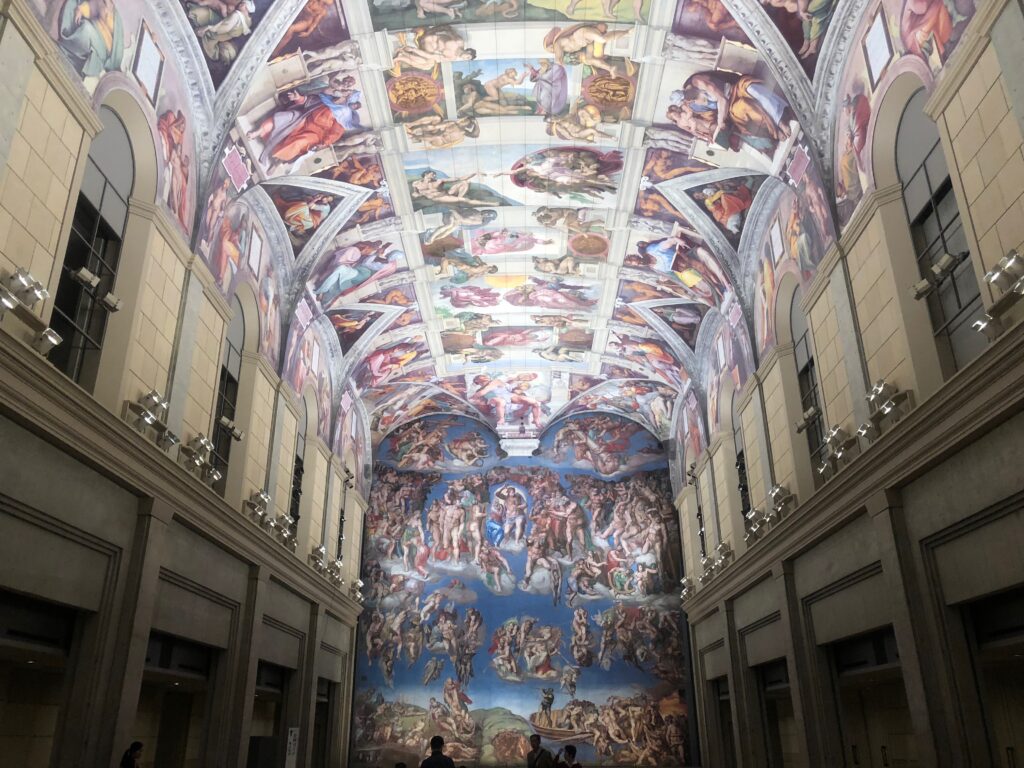 In addition to reproductions of paintings, the Otsuka Museum of Art has a huge room that reproduces the paintings on the walls of ancient ruins and medieval chapels.
This room is a reproduction of the Sistine Hall in the Vatican. You will be overwhelmed by the life-sized ceiling mural of Michelangelo's "The Last Judgment".
There is also an outdoor garden that recreates Monet's Water Lily Pond. These three-dimensional exhibits are known as environmental exhibits.
Other Facilities of Otsuka Museum of Art
Cafe and restaurant, museum store
There are several cafes and restaurants in the museum where you can take a break during your visit.
In the museum store, you can find ceramic paintings priced from several thousand yen to several hundred thousand.
Otsuka Museum of Art Highlights
A museum where you can go to learn about the history of Western art
I love Leonardo da Vinci's paintings, and whenever there is a special exhibition in Japan, I go there.
The Otsuka Museum of Art has a permanent collection of da Vinci's most famous works, even if they are only reproductions, so it is one of my favorite museums to visit, even if only to see his works.
There are also several artists that I have come to love since coming to this museum.
There is a wide range of works on display, so I think it would be a good idea to visit the museum to get some preliminary information before seeing the real paintings. The admission fee is expensive, but I think it is a museum that is worth a visit.
Entrance fees and advance tickets for Otsuka Museum of Art
Admission: 3300 yen for adults (2200 yen for university students, 550 yen for high school students and younger)
Advance tickets can be purchased at convenience stores for a discounted rate of 3160 yen for adults, 2140 yen for university students, and 530 yen for high school students and younger.
Otsuka Museum of Art Access, Parking, and Opening Hours
 

| | |
| --- | --- |
| Access | If you are driving from Honshu, take the Kobe-Awaji-Naruto Expressway, which crosses the Naruto Strait. Just after crossing the Onaruto Bridge, get off at the Naruto Kita Interchange, and from there it is a three-minute drive to the museum. |
| Address | |
| Opening hours | 9:30-17:00 (Closed on Mondays) |
| URL | Official website |
| Parking | Available (free of charge) |
Access to the parking lot is here
 

| | |
| --- | --- |
| Access | The free parking lot of the Otsuka Museum of Art is located about 700 meters from the museum. A private bus service is available to take visitors from the private parking lot to the Otsuka Museum of Art. |
| Address | |
Places to visit around Otsuka Museum of Art
A 20-minute drive from the Otsuka Museum of Art in the direction of Kagawa Prefecture takes you to JF Kitanada Sakana-ichi, a fish market.
A 30-minute drive south will take you to the Awa Odori Kaikan, where you can experience the year-round Awa Odori dance.