In Choshi, Chiba Prefecture, soy sauce production has been flourishing since the Edo period.
This article describes our visit to the factory of a soy sauce manufacturer in Choshi.
The production history of soy sauce makers in Choshi
Choshi's mild climate is ideal for making soy sauce
The production of Kanto soy sauce began in Choshi in Chiba Prefecture in the 17th century, and soy sauce was transported to Edo by boat along the Tone River.
The mild climate of Choshi was ideal for making koji, the base of soy sauce. The location also made it easy to transport the raw materials and finished products, which was one of the reasons why soy sauce production was flourishing in this area.
There are several large soy sauce factories in Choshi that have been in business for more than 300 years, including Yamasa Soy Sauce, Higeta Soy Sauce, Ogura Soy Sauce and Takara Soy Sauce.
Some of these soy sauce factories are open for tourists to drop by and take a tour.
Participating in a soy sauce factory tour in Choshi
Tour of two soy sauce factories, Yamasa and Higeta
In Choshi City, the following two soy sauce factories offer tours (in Japanese).
* Yamasa soy sauce factory
* Higeta soy sauce factory
Tour of the Yamasa Soy Sauce Factory
Learn about the history of Yamasa Soy Sauce's soy sauce production
First, let's take a look at the tour of the Yamasa Soy Sauce Factory. Yamasa Soy Sauce has been making soy sauce in Choshi since 1645, 350 years ago.
When we arrived at the Yamasa Soy Sauce factory, we first went to the tour center at the entrance to register. At that time, pamphlets were handed out to the tour participants, as well as illustrated handouts for the children.
After that, we went to the theater behind the reception desk to watch a 20-minute movie about Yamasa's history and how soy sauce is made.
After watching the movie, a Yamasa guide took us on a 30-minute tour of the factory in operation (only on weekdays).
* Since the factory is closed on weekends, the tour ends after you see the room where you can simulate going inside a soy sauce vat.
A step-by-step tour of the soy sauce making process
Soy sauce is made from only three ingredients: steamed soybeans, roasted wheat, and salt. To the mixture of these ingredients, the manufacturer's original koji mold is added to make koji. After the koji is mixed with salt water, the mash is fermented, matured, squeezed, and heat-treated to make soy sauce.
On weekday tours, we first went to see the silos where soybeans and wheat are stored and the conveyor belts used to transport them. Then we went through the Koji room, where the ingredients are mixed together to make koji, and the Moromi brewery. During the tour, the guide also answered questions from the visitors.
Souvenirs from the factory tour
At the end of the tour, we were given a 150ml pack of Yamasa's signature soy sauce as a souvenir.
Enjoy soy sauce soft ice cream
After the tour, we moved on to Yamasa's Soy Sauce Taste and Experience Center (Shoyu Ajiwaikan), which is located next to the factory.
Here you can enjoy soy sauce soft ice cream (250 yen), soy sauce rice crackers (100 yen), and soy sauce products tasting. The soy sauce soft ice cream was refreshingly sweet with a hint of saltiness.
The store next door also sells soy sauce-flavored popcorn, tsukudani (food boiled down in soy sauce), and related products such as premium soy sauce, supervised by French master chef Joel Robuchon, which you can buy as souvenirs.
Time required to visit the Yamasa Soy Sauce Factory
The tour of the Yamasa Soy Sauce Factory took about 60 minutes. (On weekends, it would take about 30 to 40 minutes)
We had to call ahead to sign up for the tour. The tour was free of charge and was held six times between 9:00 and 15:00.
Higeta Soy Sauce Factory Tour
Higeta soy sauce with 400 years of history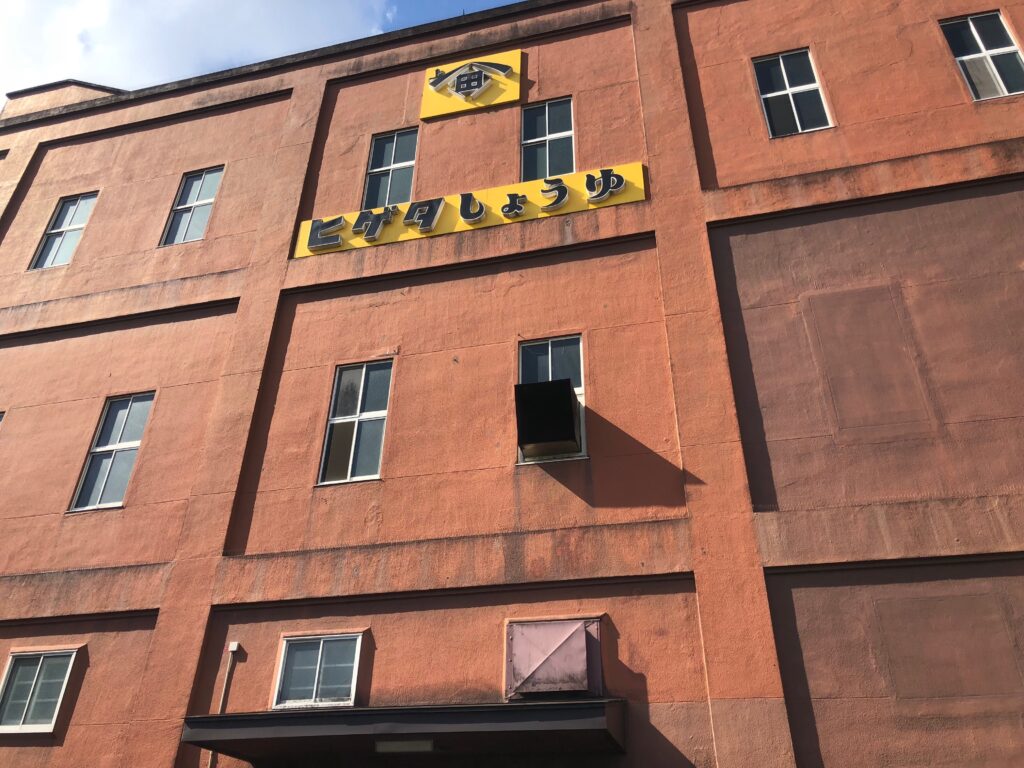 Next, we went on a factory tour of Higeta Soy Sauce, a 5-minute drive (14-minute walk) from Yamasa Soy Sauce factory
Higeta Shoyu is a soy sauce manufacturer with 400 years of history, having started making soy sauce in Choshi in 1616.
The first part of the Higeta Soy Sauce factory tour was to watch a video introducing the company's products. After that, the staff led us through the soy sauce making exhibition room.
A virtual reality (VR) tour of soy sauce production
Instead of actually touring the factory, Higeta Shoyu uses VR scope to teach us about soy sauce production.
When I put on the VR scope, an image appeared in front of me. The images show the soybeans and wheat, the raw materials for soy sauce, being mixed together, fermented into a mash, squeezed, and finally bottled.
Also, when I moved the VR scope 360 degrees vertically, horizontally, and diagonally, the ceiling, floor, and walls moved along with my line of sight, so I felt as if I were actually inside the factory and that I had become the raw material for soy sauce.
I thought it was a very interesting experiment to be able to experience cutting-edge VR inside a soy sauce factory with 400 years of history.
* The VR experience at Higeta Soy Sauce Factory is also only available on weekdays. On weekends, only videos will be shown.
We also got some souvenir from Higeta Soy Sauce
Higeta Soy Sauce also gave us a bottle of their soy sauce as a souvenir on the way home from the tour.
* It is recommended to keep soy sauce in the refrigerator and use it up within a month of opening the package. If you can't use it all, you can use it as a seasoning for boiling dishes.
Choshi Soy Sauce Factory Tour Summary
A good opportunity to learn about the history of soy sauce and its production process
Each of the soy sauce factories introduced in this article is within walking distance from Choshi Station, and we were able to visit them in less than a day.
In this tour, we learned about the history of soy sauce, which is indispensable for cooking, and its production process. Why don't you consider a tour of a soy sauce factory when you visit Choshi?