Birch Trees are my favorite tree. I was pleased when I found out that the symbolic tree of Nagano Prefecture where I live is a white birch.
Nagano Prefecture has a place where you can fully enjoy such white birch trees. It is called the Yachiho Highlands (at the foot of the Mount Yatsugatake).
Yachiho Highlands along the Yatsugatake Fairly Tale Road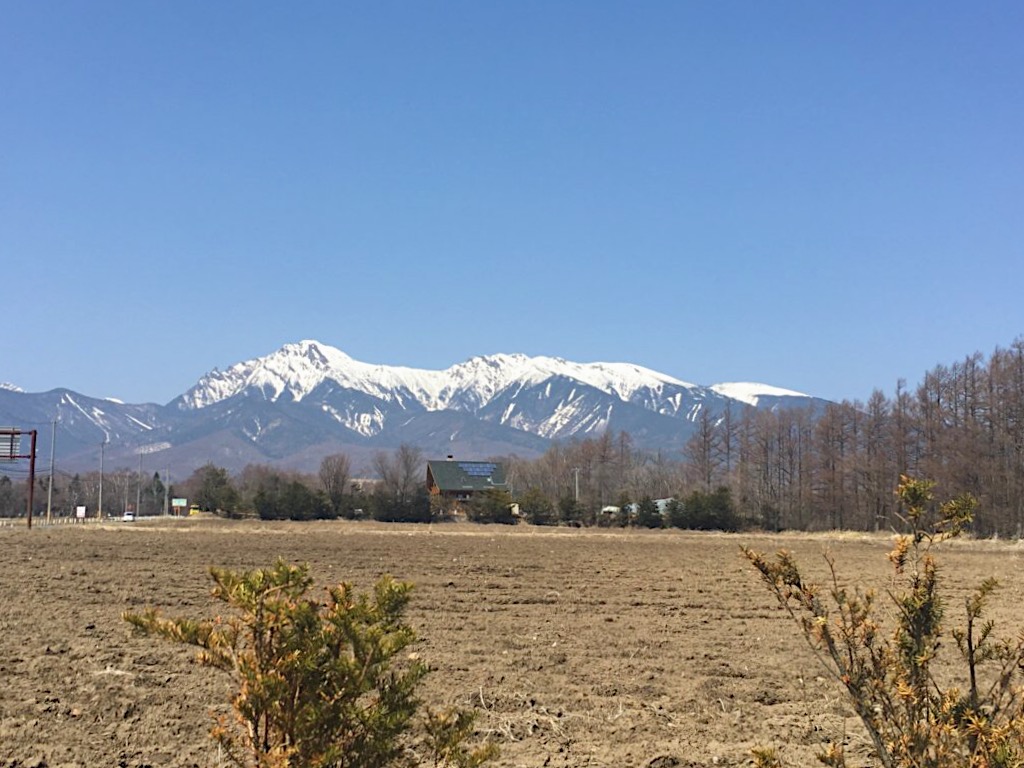 There is a mountain with an altitude of 2,899 meters called Yatsugatake at the border between Nagano and Yamanashi prefectures. Yatsugatake means eight peaks of mountains.
The Mount Yatsugatake is where there are still some snow visible in front of this picture.
The Yachiho Highlands is along National Highway No. 299 crossing this Yatsugatake, aka "Yatsugatake Fairy Tale Road".
Access to Yachiho Highlands
When you drive the Yatsugatake Fairy Tale Road towards Chino city in about 15 minutes you will see a sign of the white birch colonies. There is a vast expanse of the forest of white birch tree just around the sign board.
It is convenient to use the parking lot of "Yachiho Lake(八千穂レイク)" or "Yachiho Highlands Nature Park(八千穂高原自然園)" or "Hanagi-en Garden(花木園)" in the map of the photo below to stop the car.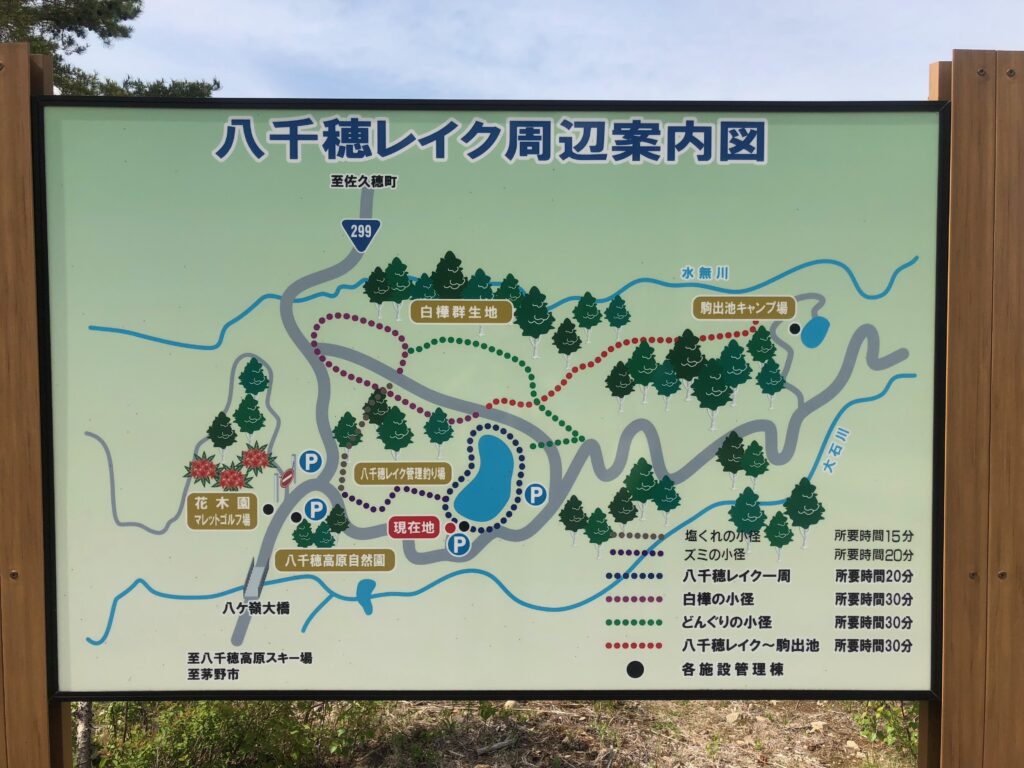 As you advance through the "birch grove(白樺の小径)" and "acorn grove(どんぐりの小径)" you will enter the beautiful white birch colonies.
The white birch forest of Yachiho Highlands is the largest in Japan, 500,000 birch trees are growing in this area.
This is my favorite place surrounded by white birch trees as I can stroll the forest while listening to birds' singing.
I took a YouTube video, if you would like to watch it.
In Yachiho Highlands you can also enjoy alpine flowers, autumn leaves depending on the season to visit.
Fishing with Lake Yachiho
A lake called Lake Yachiho is next to the white birch forest with a diameter of 820 meters and a depth of 7 meters. In Lake Yachiho you can enjoy catch and release fly fishing from late April to early November.
The fish being released is Rainbow trout. Several people of fishing were enjoying fly fishing at a quiet Lake Yachiho.
Tsurikko Land (Fishing Pond)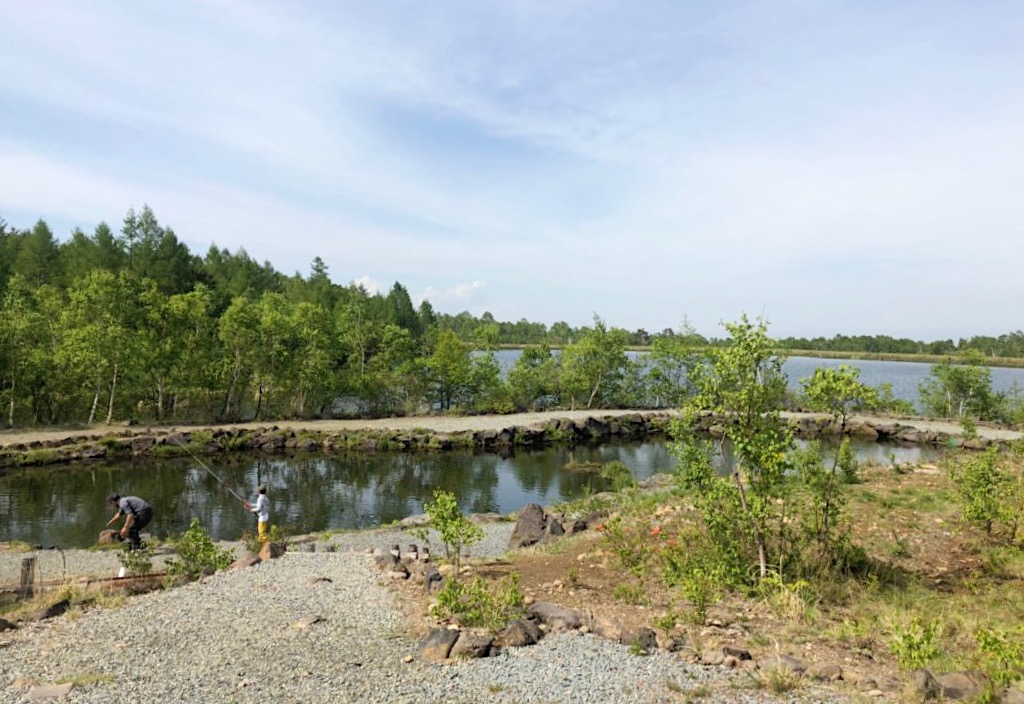 There is also a small fishing pond called "Tsurikko Land" next to the Lake Yachiho where children can experience fishing by themselves. The pond is stocked with rainbow trout in the summer.
The price is 1500 yen for catching up to five fishes. Also, if you would like to grill the fish you caught there's a BBQ place to eat on the spot, it costs 1,500 yen for a BBQ stove.
Tourist information center of Yachiho Lake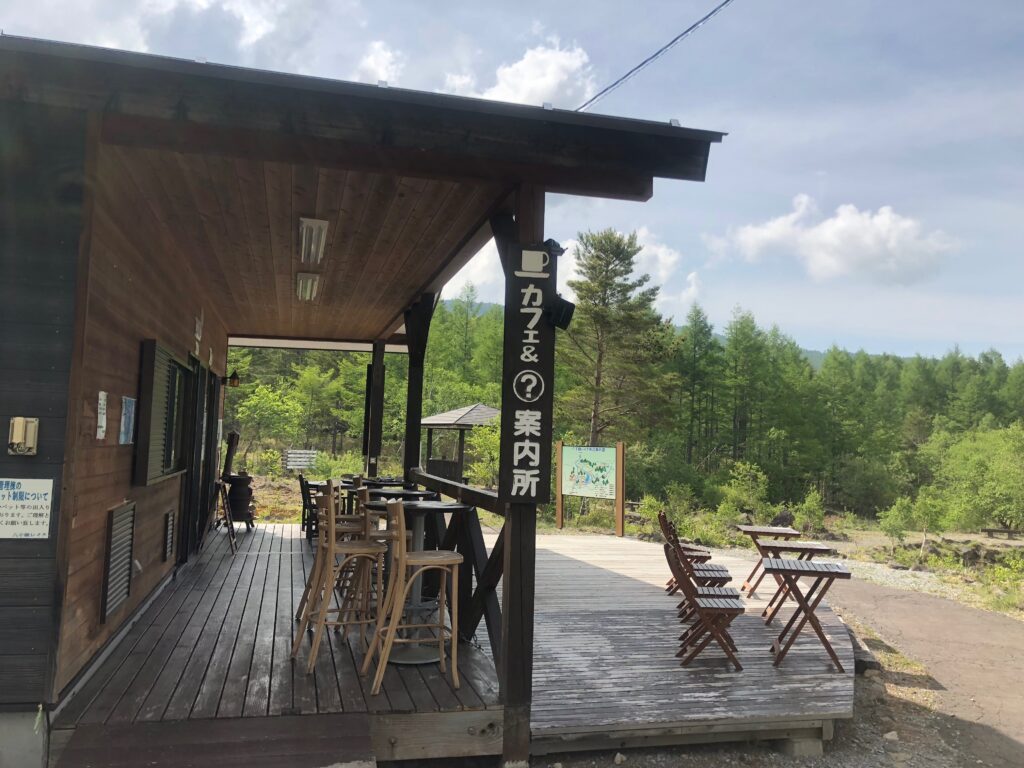 This cabin is the information center & cafe of Yachiho Lake. You can purchase a one-day ticket for fishing or rent a fishing rod pole.
Yachiho Highland Summary
In Yachiho Highlands you can also enjoy various activities such as trekking, adventure playground, camping and more.  It is perfect sightseeing spot for those who want to spend their holidays surrounded by beautiful white birch in the highlands of Nagano prefecture.
Nearby tourist destinations
Near the Yachiho Highlands there is a natural lake called "Lake Shirakoma" located in the highest altitude in Japan.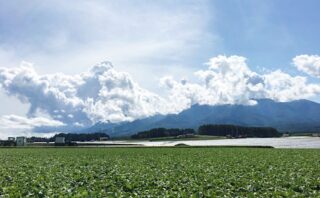 The Village that Produces the Most Lettuce in Japan!|A Trip to Kawakami Village to Discover the Delights of Highland Vegetables
Nagano Prefecture is one of the most mountainous prefectures in Japan, with an average altitude of 1132 metres. This makes it a suitable production area...
Fuchu citizen resort house "Yachiho"
In addition, next to Yachiho Lake, there is an accommodation facility "Fuchu citizen resort center Yachiho". This is a recreation center of Fuchu citizens in Tokyo, but you can stay even if you are not Fuchu citizen.